Bacon, Mozzarella and Veggie Frittata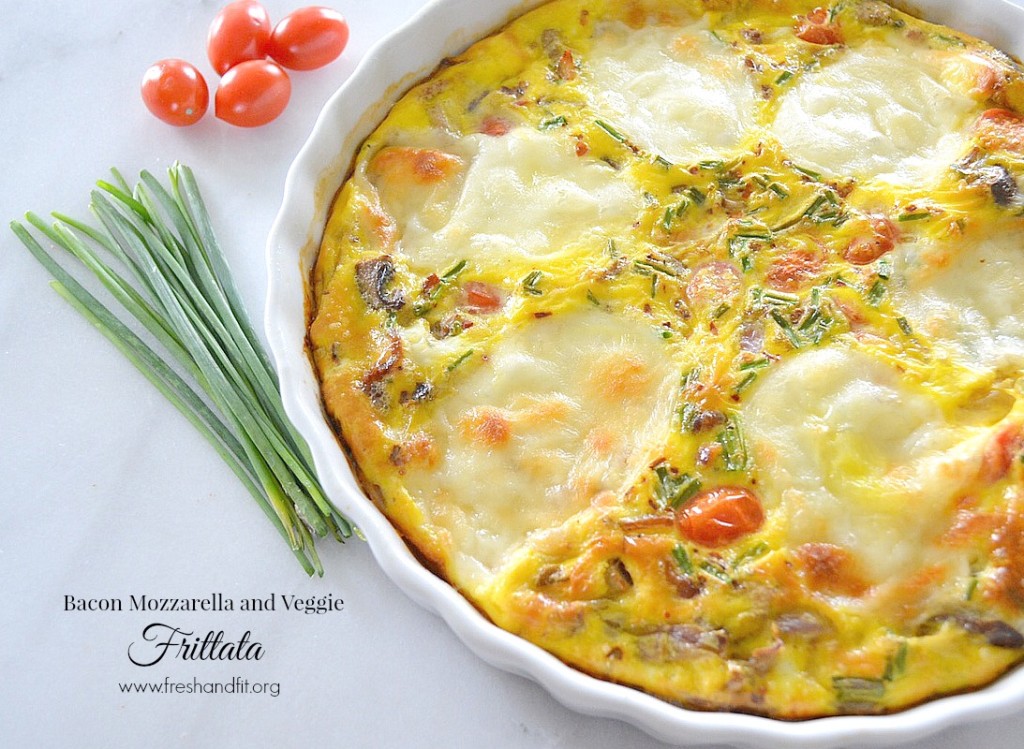 Breakfast meals are just as delicious for dinner or any time of day. I often forget to reach for the eggs and whip up a breakfast type dish for dinner. This simple garden fresh  Bacon Mozzarella and Veggie frittata makes a delicious dinner that is high in protein and packed with good for you veggies. Next, time you are can't decide on a dinner recipe, think breakfast!
Bacon, Mozzarella and Veggie Frittata
Ingredients
6 eggs
1/3 c half and half
1 tbsp olive oil
1 large mozzarella ball, sliced into 6 pieces
3 strips of bacon, cooked and chopped
1/2 c grape tomatoes, halved
1/2 c red onion, chopped
2/3 c baby portobello mushrooms, chopped
2 tbsp fresh chives, chopped
1/2 tsp garlic powder
1/2 tsp chili flakes (optional)
sea salt and black pepper to taste
Instructions
Preheat oven to 350. Grease a pie or quiche pan with non stick spray.
Cook bacon until crispy. Allow to cool and then coarsely chop.
While bacon cooks, heat olive oil in a separate pan over medium heat. Add mushrooms and onions. Cook until tender and onions begin to soften. Turn heat off and allow to cool.
In a mixing bowl, whisk together eggs and half and half. Add garlic powder, chives, chili flakes and tomatoes. Season with salt and pepper. Stir.
Add mushrooms, onion and bacon to pie pan. pour egg mixture over. Assemble mozzarella slices on top. Bake for 40-45 minutes.
http://freshandfit.org/bacon-mozzarella-and-veggie-frittata/