Buffalo Chicken Naan Pizza's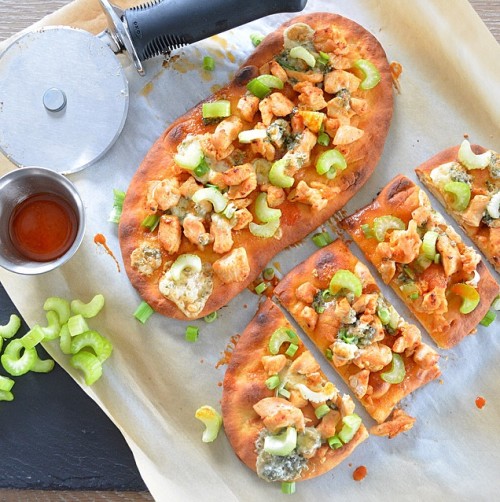 A crowd pleasing recipe just in time for game day! Or if you're like me, something to eat while you watch commercials and Katy Perry perform. These personal sized pizzas are instant portion control, but lets face it, we want to be free to indulge on a day as fun as the Super Bowl. Which is why these pizzas are full of spicy buttery buffalo sauce and tangy blue cheese. Be sure to still buy the best quality butter,chicken and cheese – Then indulging doesn't feel so naughty!
4 naan breads
2 tbsp olive oil
2 chicken breasts (organic)
2 celery stalks, thinly sliced
2 green onions, thinly sliced
1/2 c blue cheese (raw or organic)
Buffalo Sauce
1/2 stick of butter (organic, grass fed)
1/3 cup hot sauce or tabasco
Thinly slice chicken breast and sauté in a medium sauce pan with two tablespoons of olive oil until golden brown and cooked through.
Melt butter over low heat in a small saucepan. Stir in hot sauce until combined. You can add more butter for a less spicy sauce, or more hot sauce if you like a lot of heat.
Turn on Broiler. Place naan on a baking sheet and lightly coat with 1/2 of the buffalo sauce.
Top each naan with chicken and blue cheese. broil for 5-7 minutes until naan is toasted and cheese is bubbly. Top with celery, onions, and remainder of buffalo sauce.