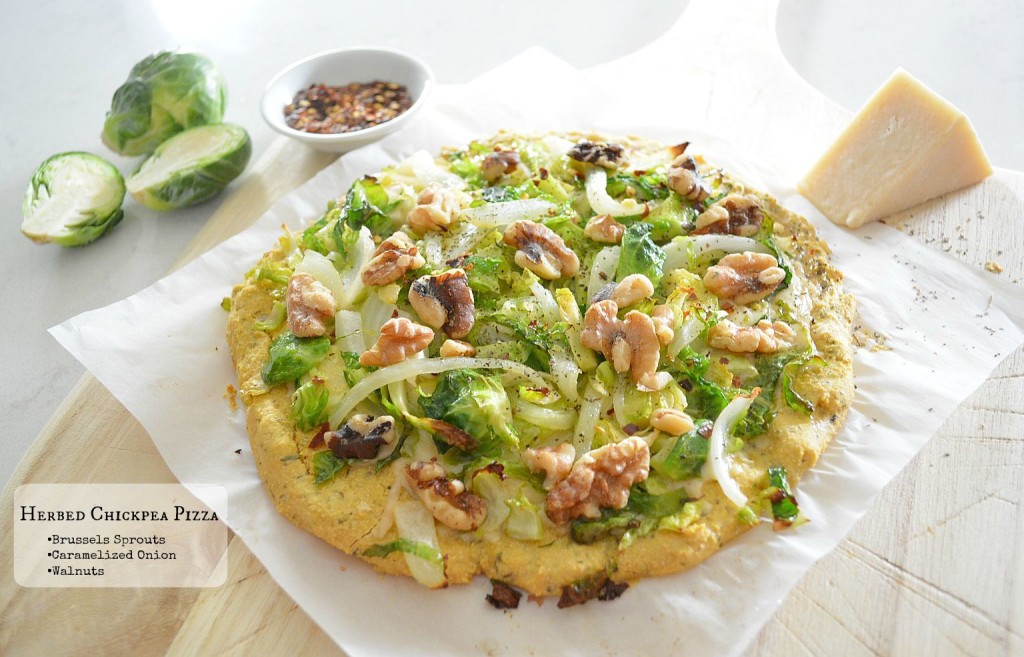 If you follow Fresh and Fit, you know I love taking traditionally not so healthy recipes and making them very nutritious. This herbed chickpea pizza with caramelized onion, brussels sprouts and walnuts is one of those recipes. The high protein and fiber content in the chickpea flour make this a recipe that will fuel your workout instead of ruin your efforts. The recipe makes a personal size pizza, but the density of the crust make it very filling and ideal for sharing.
Herbed Chickpea Pizza with Brussels Sprouts, Caramelized Onion, and Walnuts
Ingredients
FOR THE DOUGH
2 c chickpea flour ( I used bob's red mill)
1 egg
2/3 c water
1/4 tsp garlic powder
1 tsp dried oregano
1 tsp dried basil
1/2 tsp dried Rosemary
1/2 tsp dried thyme
1 tsp sea salt
1/2 tsp chili flakes
FOR TOPPING
1 c shaved Brussels sprouts
1/2 c sliced white onion
1 c grated Asiago cheese
1/3 c chopped walnuts
3 tbsp olive oil divided
Instructions
Preheat oven to 350. Line a baking sheet with parchment paper.
In a large bowl combine chickpea flour, garlic powder, oregano, basil, rosemary, thyme, and sea salt. Add egg and mix well.
Add water and mix once more. Form into a ball.
Press dough out onto a parchment lined baking sheet forming a circle, leaving edges higher.
Bake dough 10 minutes.
In the meantime, sauté onions in olive oil for 7 minutes. Add Brussels sprouts and sauté 5 minutes longer.
Carefully remove dough from oven. Top with Asiago, onions, shaved Brussels sprouts.
Bake for 10 minutes longer. Top with walnuts. Bake 5 minutes longer.
Top with chili flakes if desired.
http://freshandfit.org/herbed-chickpea-pizza-with-brussels-sprouts-caramelized-onion-and-walnuts/