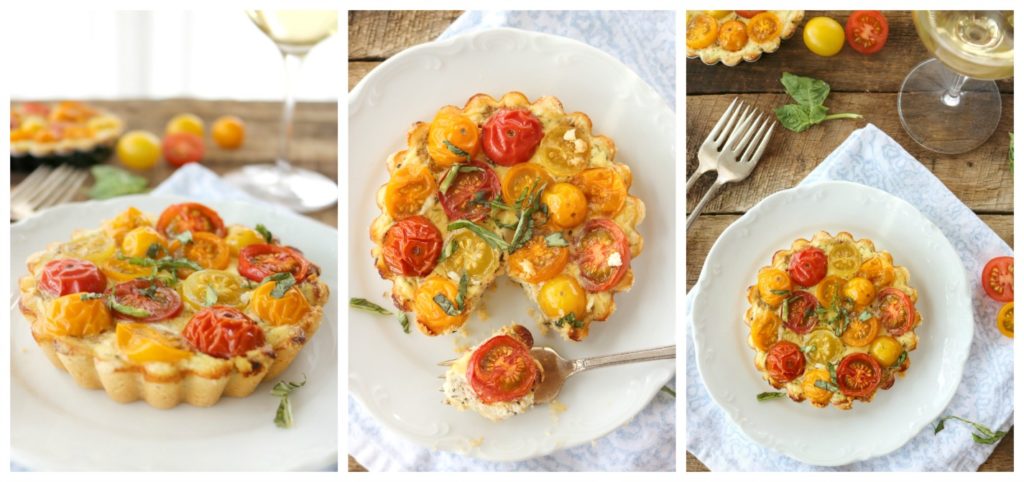 Spring is officially underway, and I can't think of a better way to kick this beautiful season off than with these equally beautiful (and delicious) heirloom tomato tartlets. The recipe may look complex, but it is very simple and sure to wow whomever you decide to share them with. The crust is made using a gluten and grain-free almond flour. Almond flour is light and gives the crust a delicate buttery flavor that melds perfectly with the filling–more about that to come. The dough is pressed into 4-inch tartlet pans and chilled while the filling is made.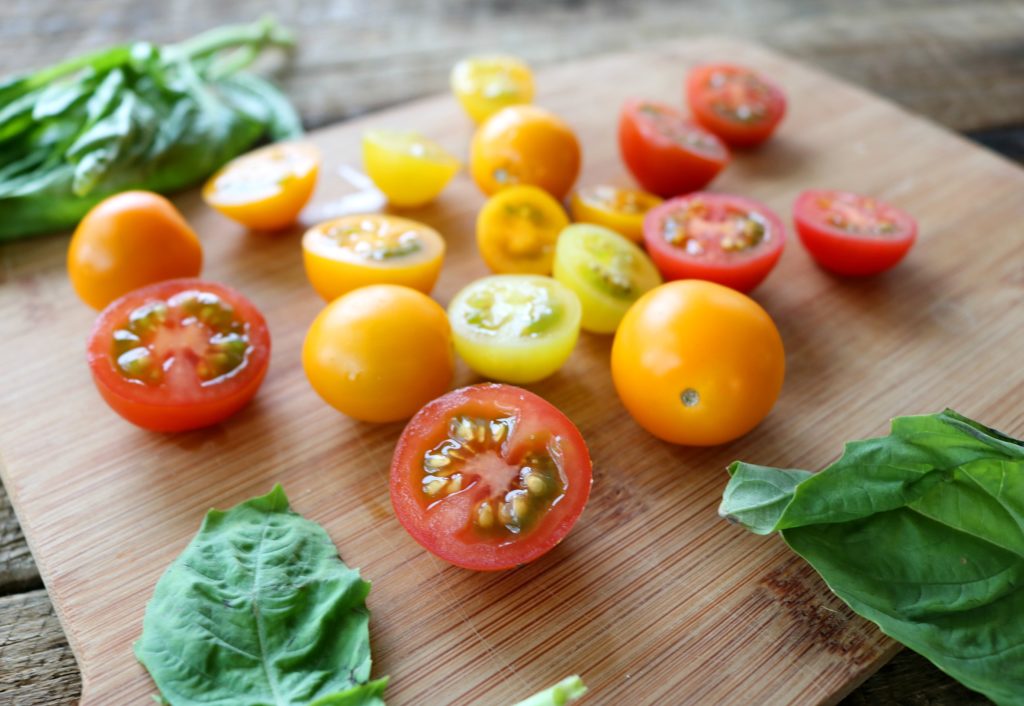 To create the super creamy filling, egg is whipped along with ricotta cheese and plenty of herbs like thyme, garlic and basil. No need for a mixer to whip the filling, just vigorously mix with a fork or spoon until fluffy. Pour the filling into crusts and top with mini heirloom tomatoes that are tossed in olive oil and balsamic to lightly flavor and help caramelize the tomatoes as they bake. Be sure to shake off any excess balsamic vinegar and olive oil before placing tomato halves on top. Bake tartlets for 25-30 minutes and allow them to set at room temperature for ten minutes before lifting from pans.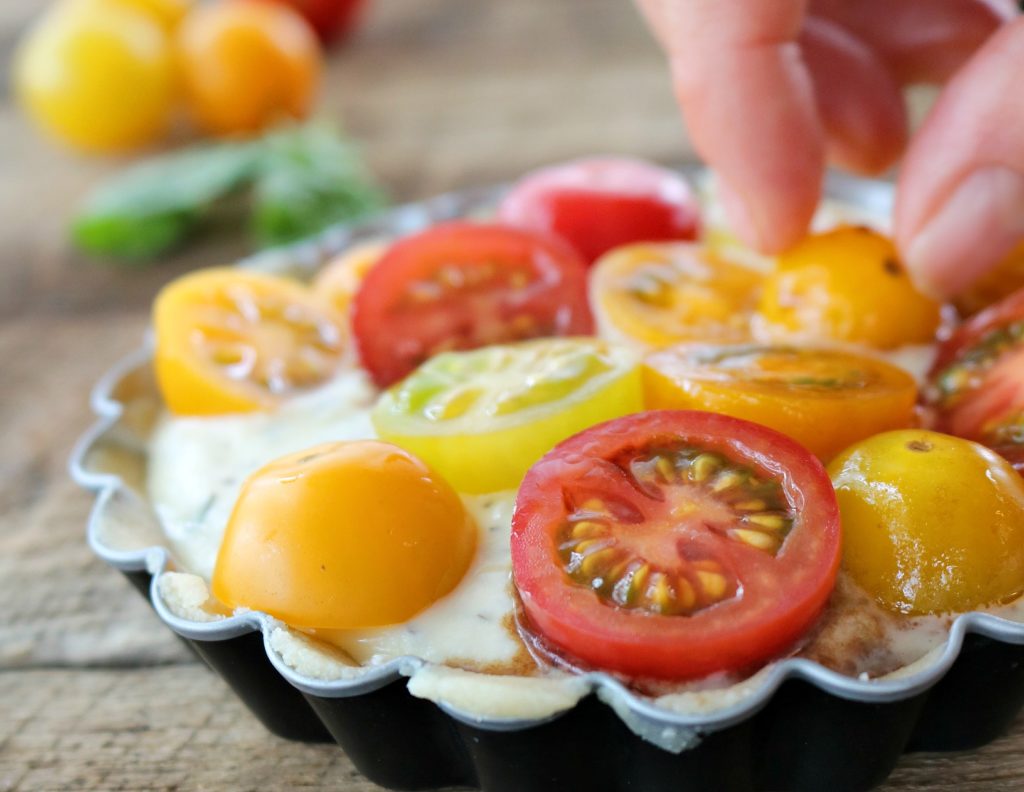 Serve these tarts alongside a big salad for a meatless Monday dinner with farm to table vibes. The tarts are also delicious for breakfast. If you are feeding a larger crowd, simply double the recipe. A big glass of chardonnay or sauvignon blanc pairs beautifully with the creaminess of the ricotta cheese.
Happy Spring and more delicious seasonal recipes to come!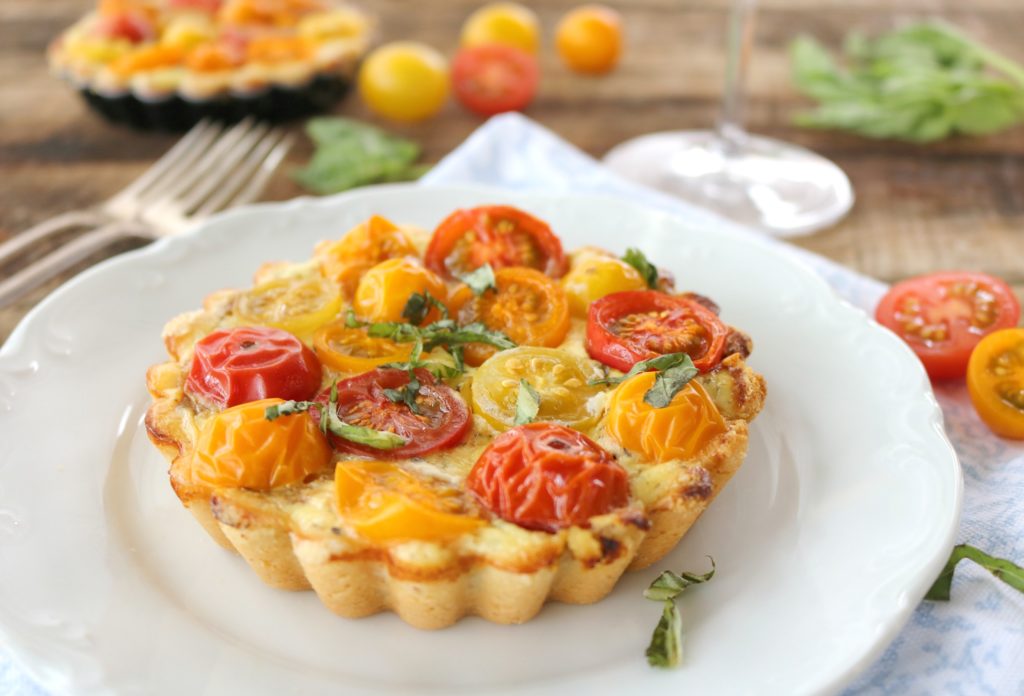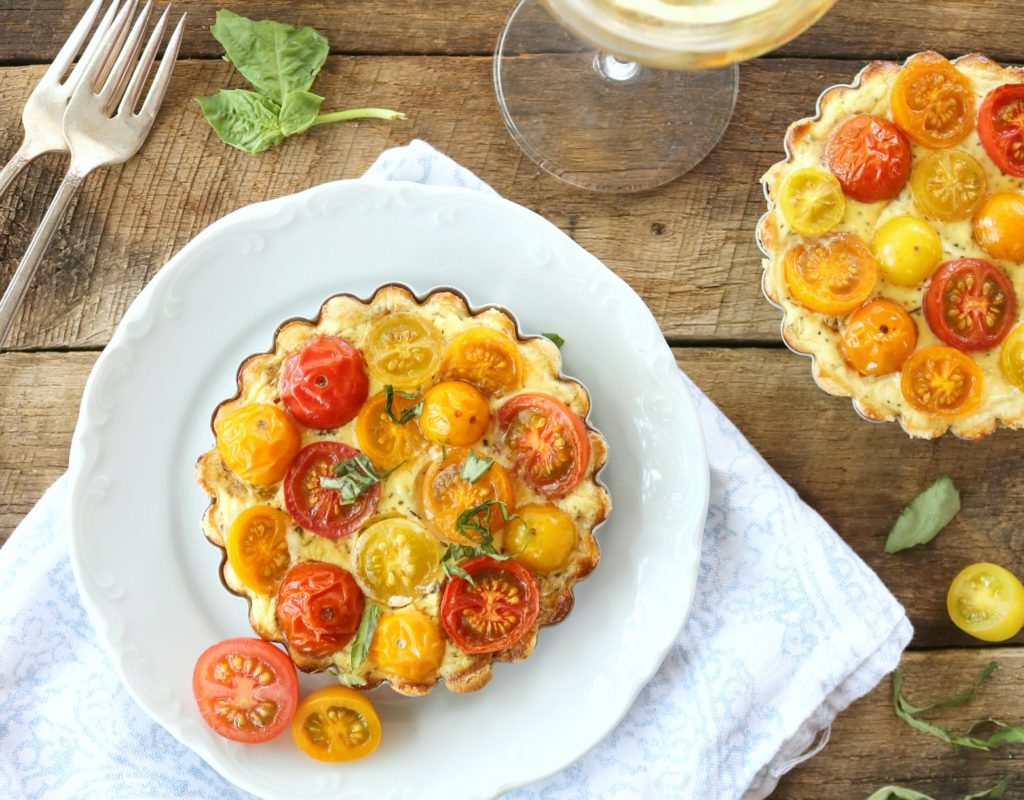 Heirloom Tomato Tartlets with Whipped Herbed Ricotta
Ingredients
2/3 cup almond flour
4 tbsp grass-fed butter, softened
1/8 tsp sea salt
1 cup heirloom cherry tomatoes, halved
1/2 tsp olive oil
1/2 tsp balsamic vinegar
For Filling
1/2 cup Ricotta cheese
1 egg
1 tsp dried basil
1/2 tsp dried thyme
1/2 tsp minced garlic
1/8 tsp black pepper
1/8 tsp sea salt
Fresh chopped basil for serving
Instructions
Preheat oven to 350 and grease two 4 inch tartlet pans with olive oil. In a mixing bowl, combine butter and gradually stir in almond flour and sea salt. Divide dough into two balls. Press dough into prepared tartlet pans. Refrigerate.
In a separate mixing bowl, combine Ricotta cheese, egg, dried basil, thyme, garlic, black pepper and sea salt. Use a spoon to whip and combine ingredients until fluffy. In a small bowl toss tomatoes in olive oil and balsamic vinegar.
Divide filling between tartlet pans and spread evenly. Arrange tomatoes in top gently pressing into filling. Place tartlets onto a cookie sheet and bake 25-30 minutes or until crust edges are golden brown. Let tartlets stand at room temperature 10 minutes before slicing.
http://freshandfit.org/heirloom-tomato-tartlets-with-whipped-herb-ricotta/