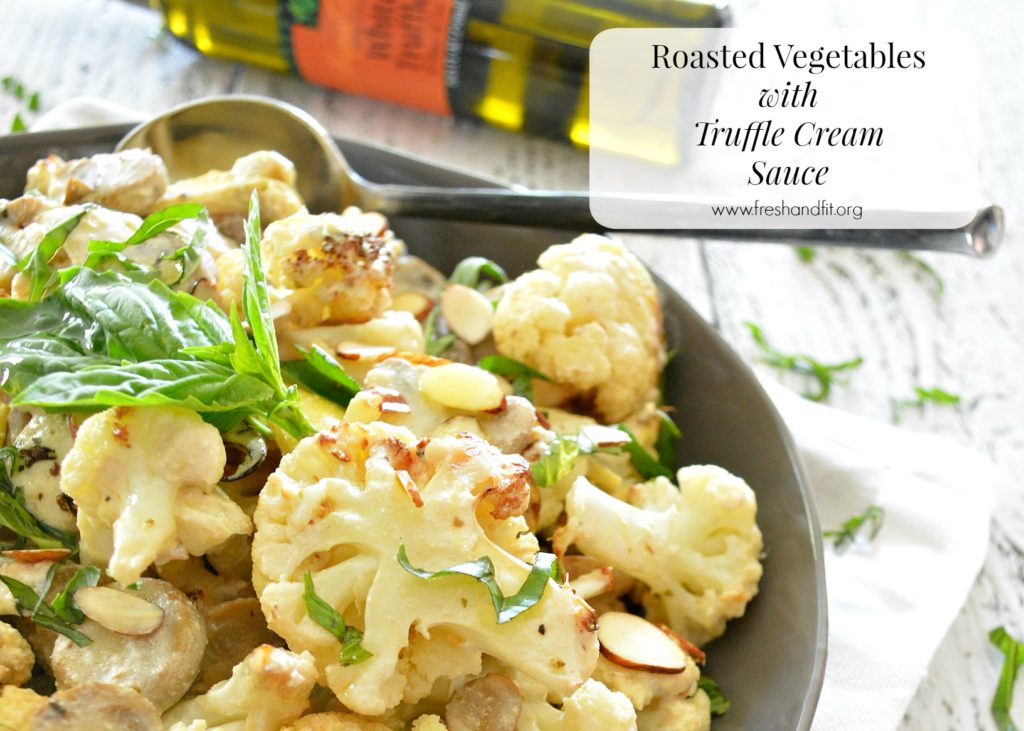 When I think of autumn recipes, visions of oven roasted vegetables and herb infused sauces come to mind. The chilly weather lends itself to some super comforting dishes full of seasonal goodness. One of my favorite flavors is that of truffle oil. It gives everything from vegetable to pizza and pasta a mouthwatering savory aroma and flavor. In today's recipe there will be truffle flavor throughout. From the oven roasted cauliflower and artichokes to the goat cheese and mushroom cream sauce they will be tossed in. Be sure to purchase a truffle oil made with real truffle mushrooms or an olive oil that is infused with truffle oil. Many companies cut corners by using an artificial truffle flavoring, and although it is less expensive, nothing beats the real thing.
This roasted vegetables with truffle cream sauce recipe is perfect for transitioning to fall cooking and a crowd pleasing dish for autumn entertaining.
Roasted Vegetables with Truffle Cream Sauce
Ingredients
1 head of cauliflower, cut into florets
1 14 oz can artichoke hearts, drained quartered
1 tbsp olive oil
1 tsp white truffle oil
Sea salt and black pepper to taste
1/4 cup sliced almonds
4 basil leaves, chopped
FOR TRUFFLE CREAM SAUCE
4 oz goat cheese
2/3 cup unsweetened almond milk
8 oz button mushrooms, sliced
1 tbsp olive oil
1 tsp white truffle oil
1 tsp dried oregano
1 tsp garlic, minced
Sea salt and black pepper to taste
Instructions
Begin by preheating oven to 425 degrees. Line a baking sheet with parchment paper. Dry artichoke hearts with a paper towel to remove excess liquid. In a large bowl, combine cauliflower florets, artichoke hearts, olive oil, white truffle oil and season with salt and pepper. Stir.
Pour into baking sheet and bake for 40 minutes or until vegetables are lightly browned.
While vegetables roast, prepare truffle sauce by combining olive oil, garlic, oregano and mushrooms over medium heat in a large pan. Cover and cook 10 minutes stirring occasionally.
Add goat cheese, almond milk and truffle oil. Stir until goat cheese is melted and sauce is thickened. Season with salt and pepper. Simmer on low heat.
Once vegetables are roasted, add them to the pan with cream sauce. Stir to coat.
Pour into a large serving bowl. Garnish with sliced almonds and basil.
http://freshandfit.org/roasted-vegetables-truffle-cream-sauce/