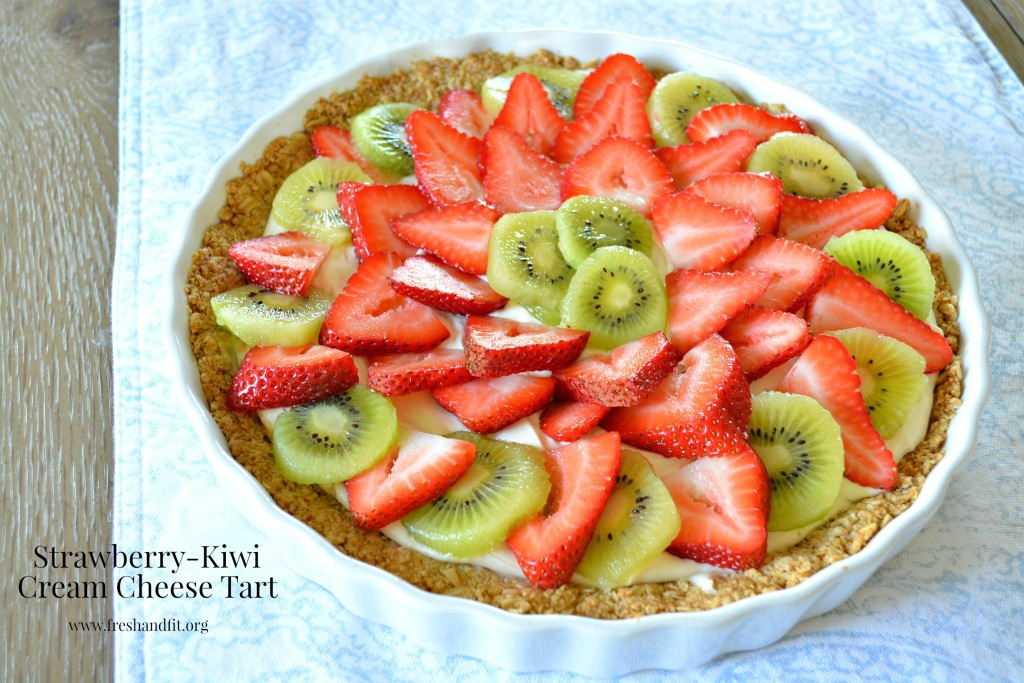 Warmer weather and chilled desserts go hand in hand. This weekend I am having my mom and stepdad over for a BBQ. I wanted to create a dessert for us to enjoy after dinner that would feel Spring-like. I have been making this oat crust for all sorts of dessert recipes from protein pie to piña colada bars. It is safe to say that it has become my go-to crust recipe for desserts. I like it because it is full of fiber and taste like cookies, providing a nice crumbly texture for just about any filling or topping. I thought it would make the perfect base to be topped with a lightly sweetened cream cheese filling and fresh strawberries and kiwi. I hope you enjoy this strawberry kiwi cream cheese tart as much as we will!
Strawberry-Kiwi Cream Cheese Tart
Ingredients
FOR CRUST
1 c oat flour
1/4 c old fashioned oats
1/4 c cane sugar
1/2 c melted butter
FILLING
2 16 oz packages cream cheese at room temperature
1 tbsp vanilla extract
1/3 c powdered sugar
2 tbsp unsweetened almond milk
TOPPING
2 c thinly sliced strawberries
1 c thinly sliced kiwi
Instructions
Preheat oven to 350. Grease a tart or pie pan.
Combine oat flour, butter and sugar in a mixing bowl. Mix until combine and moistened.
Press crust mixture into pan using hands.
Bake 20-25 minutes or until light golden brown. Remove from oven. Cool at room temperature.
Using a hand mixer, beat together cream cheese, powdered sugar, almond milk and vanilla until smooth.
Spread cream cheese filling over crust.
Top with sliced kiwi and strawberries. Refrigerate 2 hours. Slice and serve.
http://freshandfit.org/strawberry-kiwi-cream-cheese-tart/