Chimichurri Skirt Steak with Mexican Salad Stuffed Peppers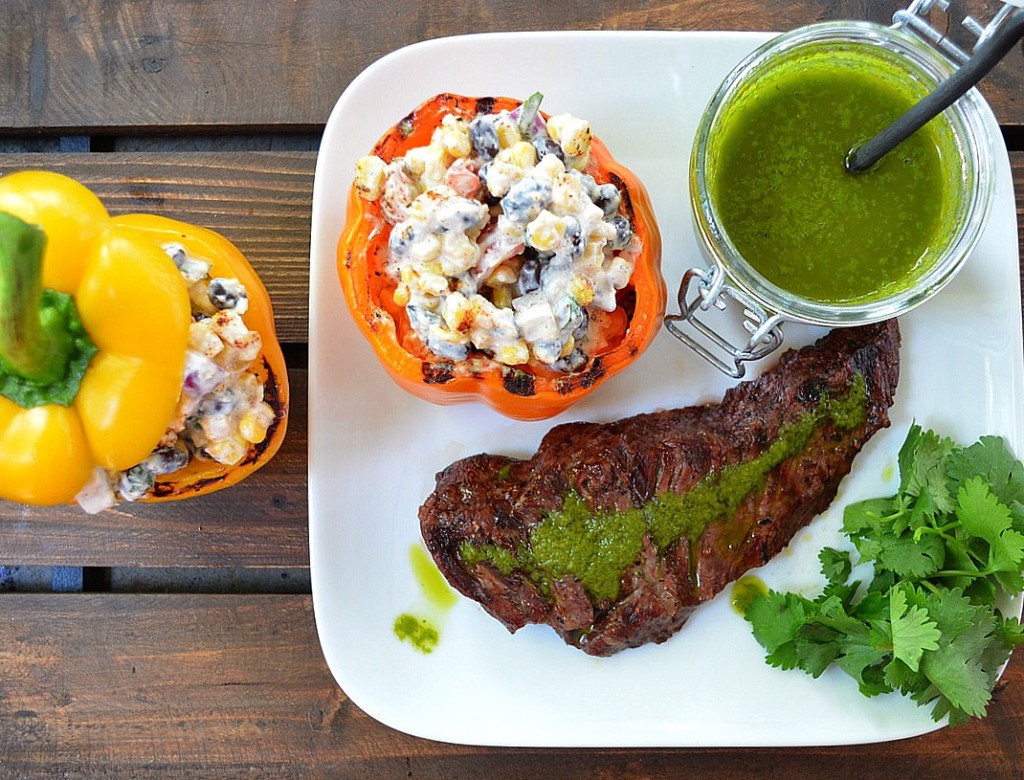 Today we are merging the flavors of Argentina and Mexico for an exotic grilled pairing. Creamy Mexican corn salad served inside grilled bell peppers are teamed up with skirt steak topped with a spicy chimichurri sauce. This recipe is perfect for summer grilling and entertaining when you want to spice things up a bit. Some fresh muddled mojitos or caipirinhas would be a great cocktail to serve with this dish.
Chimichurri Skirt Steak with Mexican Salad Stuffed Peppers
Ingredients
FOR STEAK
1 pound skirt steak
Sea salt
Black pepper
FOR CHIMICHURRI SAUCE
1 small jalapeño,remove seeds for less heat
1 tsp minced garlic
1 hand full cilantro
1 handful parsley
3 tbsp lime juice
1/3 c olive oil
FOR STUFFED PEPPERS
2 c frozen corn, thawed
1 can black beans, drained
1/2 c red onion, diced
1/2 c cherry tomatoes, quartered
4 bell peppers
1/2 c Greek yogurt
1/3 c sour cream
1/4 c grated Parmesan cheese
1/2 tsp garlic powder
2 tbsp lime juice
1 handful cilantro, chopped
1 tsp Chili powder
Sea salt and black pepper to taste
Instructions
For chimichurri sauce, roast jalapeño on grill or in oven until slightly charred.
Combine jalapeño, garlic, cilantro, olive oil and lime juice in food processor. Blend until smooth.
For corn salad, heat grill to 400. Slice tops of bell peppers, remove seeds and place on grill, cut side down. Cook 10 minutes. Peppers should be lightly tender.
In a large bowl, combine corn, tomato, black beans, red onion, and cilantro.
In a separate bowl stir together Greek yogurt, sour cream, lime juice, chili powder and garlic powder. Pour over corn mixture and stir well.
Top with grated Parmesan cheese, sea salt and black pepper. Stir once more. Scoop salad into bell peppers.
Stuff salad into bell peppers and refrigerate until serving.
Allow steaks to come to room temperate. Season with salt and pepper. Rub salt and pepper into steak.
Place on grill and cook 5 minutes each side.
Serve chimichurri sauce over steak with stuffed pepper salad.
http://freshandfit.org/chimichurri-skirt-steak-with-mexican-salad-stuffed-peppers/