Citrus Tequila Chicken with Pineapple Salsa Fresca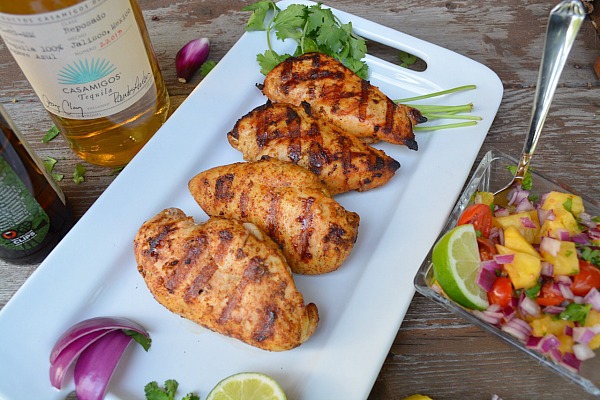 The warm weather is in full swing in our neck of the woods. That means it's time to fire up the grill and give the oven some vacation time. I am sharing this easy and awesome recipe for 'Citrus Tequila Chicken with Pineapple Salsa Fresca.' Juicy pineapple salsa compliments the smokey flavors in the chicken marinade. A bright and beautiful dish worth sharing, and the best part; it is a dish that won't sabotage your fitness goals. I love a recipe that is so full of flavor guests don't realize how healthy it is.

Recipe yields 4 servings
Citrus Tequila Chicken with Pineapple Salsa Fresca
Ingredients
For Chicken Marinade
4 chicken breasts
1/2 c tequila
1/2 c olive oil
Juice of 1 lime
Juice of 1 clementine or small orange
1 tbsp cumin
1 tbsp garlic
1 tbsp chili powder
1 tsp paprika
1/2 tsp cayenne powder
1/2 tsp sea salt
For Salsa
1 c pineapple, diced
1/2 c red onion, minced
Juice of 1 lime
1 handful cilantro, chopped
1 c cherry tomatoes, quartered
1/2 tsp red pepper flakes
Instructions
Whisk together juices, tequila and olive oil.
Add seasonings and whisk again. Reserve 1/2 a cup of marinade to glaze chicken while cooking.
Pour marinade over chicken breasts. Refrigerate 4-8 hrs.
Heat grill to medium heat. CAREFULLY add chicken (flames may increase due to alcohol) and cook 20 minutes flipping once and glaze with reserved marinade once.
Combine salsa ingredients and refrigerate until serving.
http://freshandfit.org/citrus-tequila-chicken-pineapple-salsa-fresca/