Creamy Kidney Bean Salad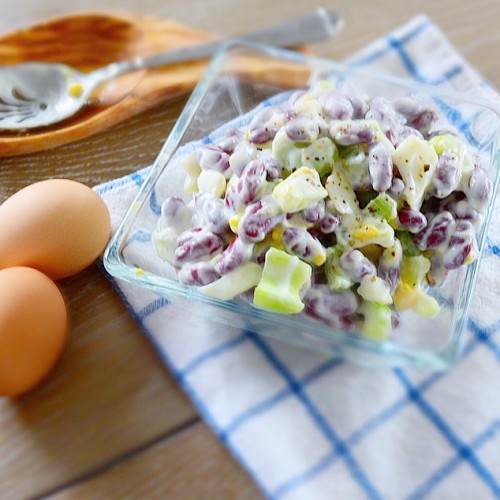 Kidney bean salad is something most of us only think about during the summertime. But it makes a satisfying, high protein, high fiber dish any time of year. This creamy kidney bean salad is also a wonderful lunch on its own to keep you full until dinner. I recommend buying an organic brand of mayonnaise, eggs and yogurt. I used less mayo in this dish and added plain yogurt to up the nutrition and offer a boost of probiotics. Enjoy!
1 can of red kidney beans
2 celery stalks thinly sliced
1 hardboiled egg chopped
1/4 c organic mayonnaise
1/3 c plain yogurt
Sea salt and pepper to taste
Combine kidney beans and celery in a medium bowl.
Stir in mayo and yogurt. Season with salt and pepper.
Add chopped hardboiled egg and stir to combine.
Makes 2 Servings