Crispy Ranch Roasted Chickpeas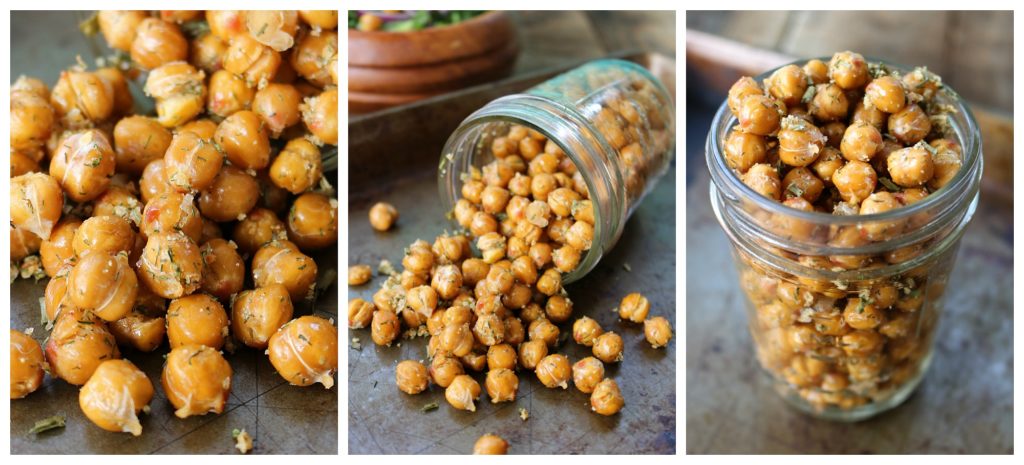 Nothing satisfies the craving for something salty quite like a crispy snack bursting with flavor. Whether it's movie time or a quick on the go snack, these crispy ranch roasted chickpeas calm a craving and also offer fiber and protein, helping to curb appetite as well. Start by heating the oven to 400 degrees.  While the oven heats, prep a baking pan with parchment paper and drain/rinse chickpeas. Dry the chickpeas on a few sheets of paper towel, paying special attention to completely dry them. Transfer back into a strainer and toss in olive oil. Using a strainer will allow any extra droplets of oil to be removed, keeping just the right amount on the chickpeas. You can also lightly spray chickpeas with olive oil spray. Add chickpeas to prepared baking sheet and roast for 25-30 minutes, stirring every 5 minutes to evenly roast.
In the meantime, stir together the seasonings. Dried chives, dill, onion powder and garlic offer a ton of herb goodness for flavor surrounding each tiny chickpea. Toss warm chickpeas in seasoning and use to top salads instead of croutons, sprinkle on soup, or munch all by themselves instead of chips or popcorn. Now, turn on your favorite guilty pleasure and enjoy this guilt-free snack!
Crispy Ranch Roasted Chickpeas
Ingredients
2 15 ounce cans chickpeas
2 tsp olive oil
1/2 tsp garlic powder
1/2 tsp onion powder
1/2 tsp drives chives
1/2 tsp dried dill weed
1/2 tsp sea salt
Instructions
Preheat oven to 400 degrees and line a small baking sheet with parchment paper. Rinse and drain chickpeas and paper towel to pat dry.
Return chickpeas to strainer. Drizzle with olive oil and toss to coat. Pour chickpeas onto baking sheet and season with sea salt. Place in oven and roast for 25-30 minutes, stirring every five minutes.
While chickpeas roast, stir together onion powder, garlic powder, chives, dill and sea salt in a small mixing bowl.
Remove roasted chickpeas from oven and allow to cool slightly, 2 minutes. Pour chickpeas into bowl with seasoning and gently stir to coat. Enjoy warm or at room temperature.
http://freshandfit.org/crispy-ranch-roasted-chickpeas/