Grilled Chicken and Corn Salad Tostadas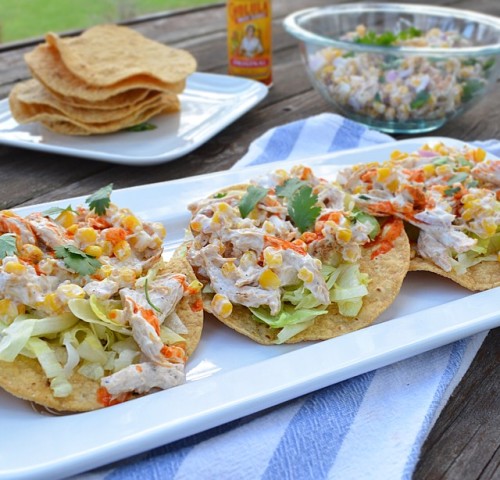 With the weather slowly getting warmer, I am looking for new ways to cool down our dinner recipes. It is nice after a long day to enjoy a crisp and refreshing salad, but even a salad lover like myself wants some variety now and then. Enter the 'Grilled Chicken and Corn Salad Tostada.' Think of it as a Mexican twist on traditional chicken salad. This recipe was originally shared with me by my mother. I added Greek yogurt to the recipe for a nutritional boost. I also threw in fresh diced red onion and cilantro for extra crunch and freshness. I hope you will add this dish to your spring and summer recipes!
2 chicken breasts
3 c frozen corn
1/2 c red onion, diced
1/2 c sour cream
1/2 c greek yogurt
Sea salt and black pepper to taste
Chili powder to taste
1 bunch cilantro, chopped
2 cups shredded lettuce
4-6 corn tostadas
Hot sauce
Season chicken breast with salt, pepper and chili powder on each side.
Place on a grill or flat top over medium heat. Cook each side 10-15 minutes.
In a medium pan over medium heat, cook corn until lightly charred, stirring occasionally.
Shred cooked chicken. In a large bowl add corn and red onion. Stir.
Add sour cream and greek yogurt. Stir well.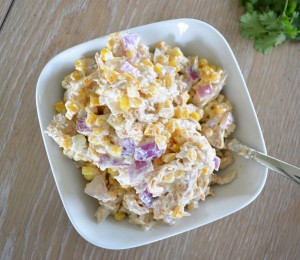 Place shredded lettuce, chicken salad mixture, cilantro and a few shakes of hot sauce on a tostada.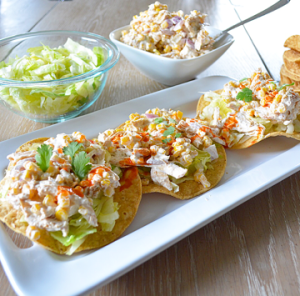 Enjoy!