Grilled Vegetable Flatbread with Quinoa, Flax and Oat Crust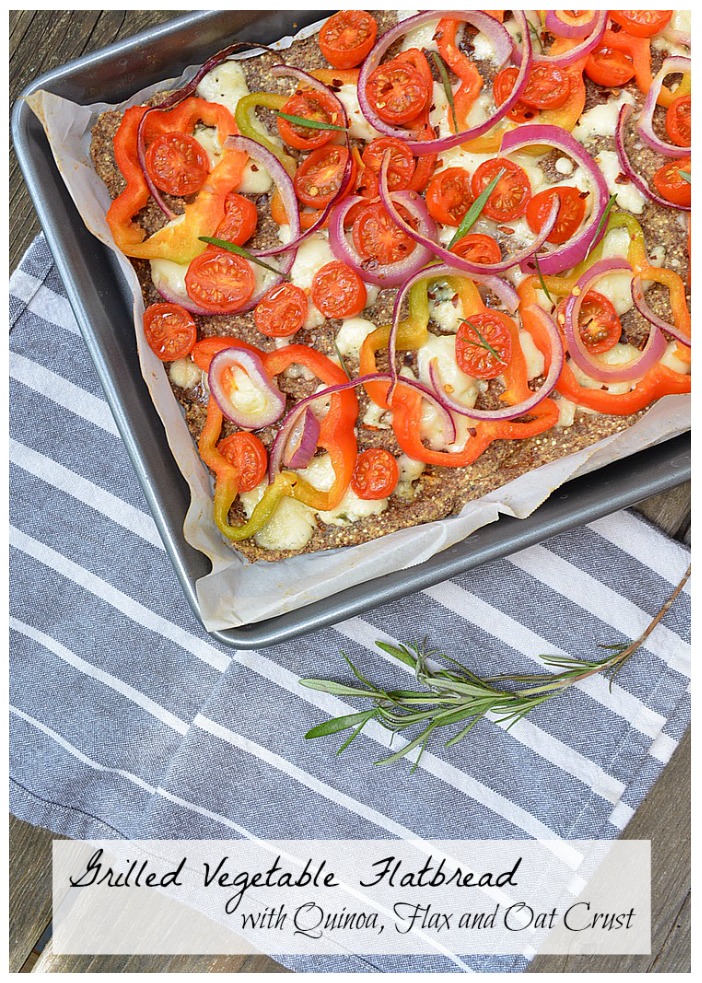 Did you know you can make healthy delicious flours using your favorite nuts, seeds and grains? Today I am going to show you how. It is super simple and creates a crust that is chewy and crunchy with a nutty rustic flavor.  You can make amazing pizza on the grill this summer that is nutritious and beautiful. This grilled vegetable flatbread recipe uses blue cheese, but you can substitute any cheese your family prefers.
Grilled Vegetable Flatbread with Quinoa, Flax and Oat Crust
Ingredients
1.5 c old fashioned oats
1/2 c dry quinoa
1/2 c flaxseeds
1 egg
1 c water
1 tsp garlic
1 tsp dried basil
1 tsp dried oregano
1/2 tsp sea salt
1/2 tsp chili flakes (optional)
5-10 fresh rosemary leaves
1 c blue cheese crumbles
1 c cherry or grape tomatoes, halved
1/2 a medium red onion, thinly sliced
1/2 a bell pepper, sliced into thin rings
2 tbsp olive oil
Instructions
Heat grill to 400. Like a 9x13 baking sheet with parchment paper.
Combine oats, flaxseeds, quinoa in a food processor. Blend until fine.
In a large bowl, combine flour mixture, basil, oregano, garlic.
Stir in egg and water. Form into a ball.
Press ball out onto baking sheet using hands.
Set on grill for 5 minutes.
In the meantime, toss veggies in 2 tbsp olive oil.
Using an oven mitt, remove crust from grill. Arrange blue cheese and veggies on top. Return to grill for 20 minutes.
Garnish with chili flakes and Rosemary.
http://freshandfit.org/grilled-vegetable-flatbread-with-quinoa-flax-and-oat-crust/