I'm Blogging at the Gluten and Allergen Free Expo!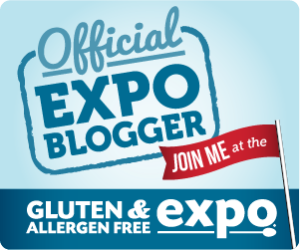 I will be an official member of the blogger team at the Chicago Gluten and Allergen Free Expo on April 20,21st. This is a great event for anyone who is interested in learning about living with food allergies and sensitivities. There will be cooking demonstrations and lots of allergen free goodies to try! I can't wait for this event because I am always looking to try new gluten free foods and cooking methods. Eating for allergies has come a long way in recent years and I am very excited to meet people who are as passionate about good nutrition as I am.
WHERE
The Schaumburg Renaissance Convention Center
1551 Thoreau Drive North
Schaumburg, IL 60173
WHEN
April 20-21, 2013
9am Early Bird Admission
10am-4pm Open to the Public
HOW
$20 per adult, children ages 3-12 are $5, tickets available online or at the door.
Beat the crowds:  Early bird admission is available at 9am.  $35 per adult and $10 per child.
To AVOID THE LINES, purchase tickets online.
Just a few of the vendors at this years expo (click logos to view websites)