Jalapeño Chicken Chowder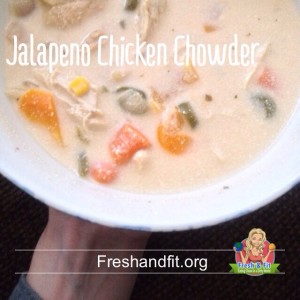 After a gluttonous Thanksgiving, it is time to ween myself back into clean eating. I don't usually add corn to any of my recipes, but I had some leftover that I was going to use in corn muffins for Thanksgiving. You can leave them out if you prefer. This is a delicious and spicy soup that you can make in the crockpot or on the stove. I use the juice the jalapeños come in which adds a really nice tangy zip to the soup!
Ingredients
2 Organic Chicken Breasts

1 Jar of sliced pickled jalapeños (you will use about 2/3 c with juice)

1 Carrot sliced thin, or 1 cup of sliced baby carrots

1/2 Medium Red Onion chopped

1/2 C Bell Pepper chopped

1 C Frozen Corn (optional)

4 Cups Organic Chicken Broth

1 C Organic Heavy Cream

1 Tbsp Olive oil

2 Tbsp Ground Cumin

1 Tbsp Paprika

1 Tbsp Oregano

Fresh cilantro for garnish
Recipe
Sauté carrot and celery in olive oil for 5 minutes.

Add broth, heavy cream, seasonings, jalapeño (and juice) and chicken breast. Bring to boil.

Reduce to simmer for 40 minutes.

Once chicken is cooked thoroughly and tender, remove and shred with a fork. Return to pot.

Add corn. Cook an additional 5 minutes.
Serve and garnish with cilantro
Enjoy!
Makes about 8, 1 cup servings.