Maple Nut Cheesecake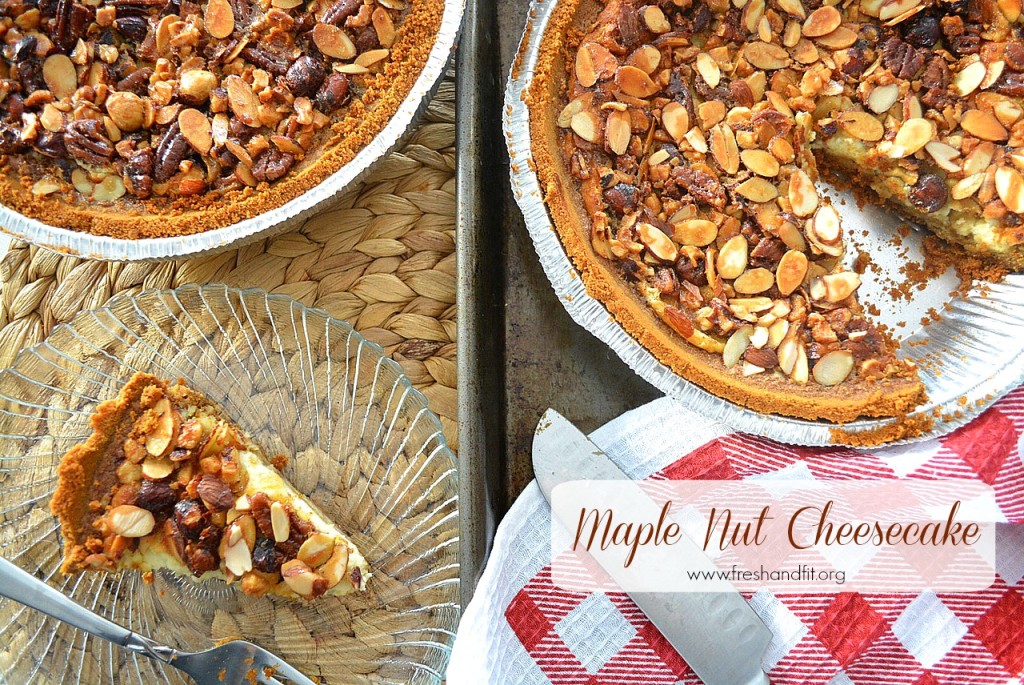 Today's recipe is the reason we eat healthy all year long and take great care of our bodies – so that we can eat lots and lots of pie during our holiday celebrations. We want to eat healthy and still fit into our jeans come the new year. I can promise you that as long as you are mindful of your eating in the weeks between Thanksgiving and Christmas, you won't have to feel guilty indulging when the holidays come around. Like I say again and again, it is balance that is key. You shouldn't think twice about indulging at holiday parties and get togethers. This is a time for celebration and joy. Like I said, be mindful in the days between and stay on your workout schedule, so that you already have a plan in place by the time January 1st rolls around. Part of a fresh and fit lifestyle is indulging!
Now, back to the pie. Who doesn't love cheesecake piled with sweet, buttery, maple syrup coated hazelnuts, almonds, and pecans?! This maple nut cheesecake recipe is super easy to whip up and cooks all at once. Chill it for a few hours and it is ready to go. You can even freeze it if you are making it ahead of time. Best of all, this recipe is for 2 pies; so you can save one for holiday parties and one for you!
Ingredients
For Cheesecake Layer
2 9 inch Graham cracker crusts
2 packages cream cheese at room temperature
2 tbsp powdered sugar
1 tsp vanilla extract
2 eggs
For Maple Nut Layer
1/2 c maple syrup, at room temperature
1/3 c brown sugar
2 tbsp melted butter
2 cups unsalted nuts (I used pecans, hazelnuts and almonds)
2 eggs
Instructions
Preheat oven to 350.
For Cheesecake Layer: Using a hand mixer on low-medium speed, beat together the cream cheese and powdered sugar.
Add eggs and vanilla extract. Beat again until well combined and smooth.
Evenly distribute amongst two pie crusts.
For Pecan Layer: In a medium mixing bowl, whisk together eggs, sugar, melted butter, maple syrup.
Add nuts and stir well.
Gently spoon mixture evenly over cheesecake layer.
Fold foil around edges. This helps prevent burning.
Bake in oven for 50 minutes. Allow to completely cool at room temperature for 2 hours. Chill until serving, at least 2 hours.
http://freshandfit.org/maple-nut-cheesecake/