Nutty Nourish Bars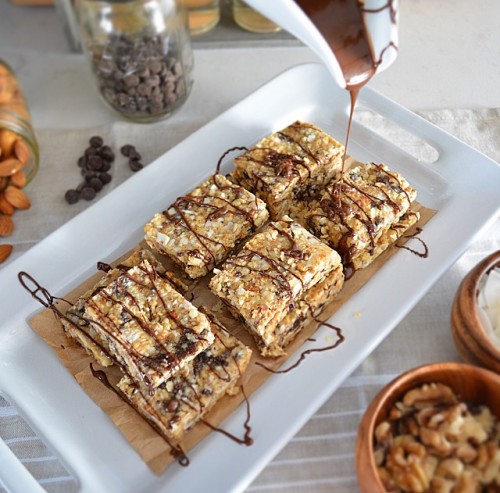 A snack shouldn't just taste great, it should nourish you and provide ample energy to continue your daily tasks. Sometimes we just need a little pick-me-up in the form of coco-nutty chocolate goodness. A release of endorphins and we are on our way to tackle the rest of the day. These Nutty Nourish Bars provide just that; brain charging fats, protein, and excellent minerals and antioxidants from dark chocolate.
2 c unsweetened coconut flakes
2 tbsp melted coconut oil
1/2 c raisins
1/2 c pitted dates
1 c walnuts
1/2 c almonds
2 tbsp honey
1/2 c peanut butter
1/2 c dark chocolate chips (at least 60% cacao)
Grease a 9×9 pan with coconut oil. Add coconut to food processor and blend until coconut is finely shredded.
Add coconut oil. Blend until well combined. Pour into large mixing bowl.
Next blend walnuts and almonds until gritty in texture. Add to coconut mixture.
Add dates and raisins to food processor and blend until slightly chunky. Add to mixture.
Stir mixture to combine. Add honey and peanut butter. Stir well to combine all ingredients.
Press into pan.
Melt chocolate over a double broiler or in microwave and drizzle over the top. Allow to chill in refrigerator for 1 hour.
Store in refrigerator for up to 1 week.