Oven Roasted Tomato and Ricotta Pita Pizza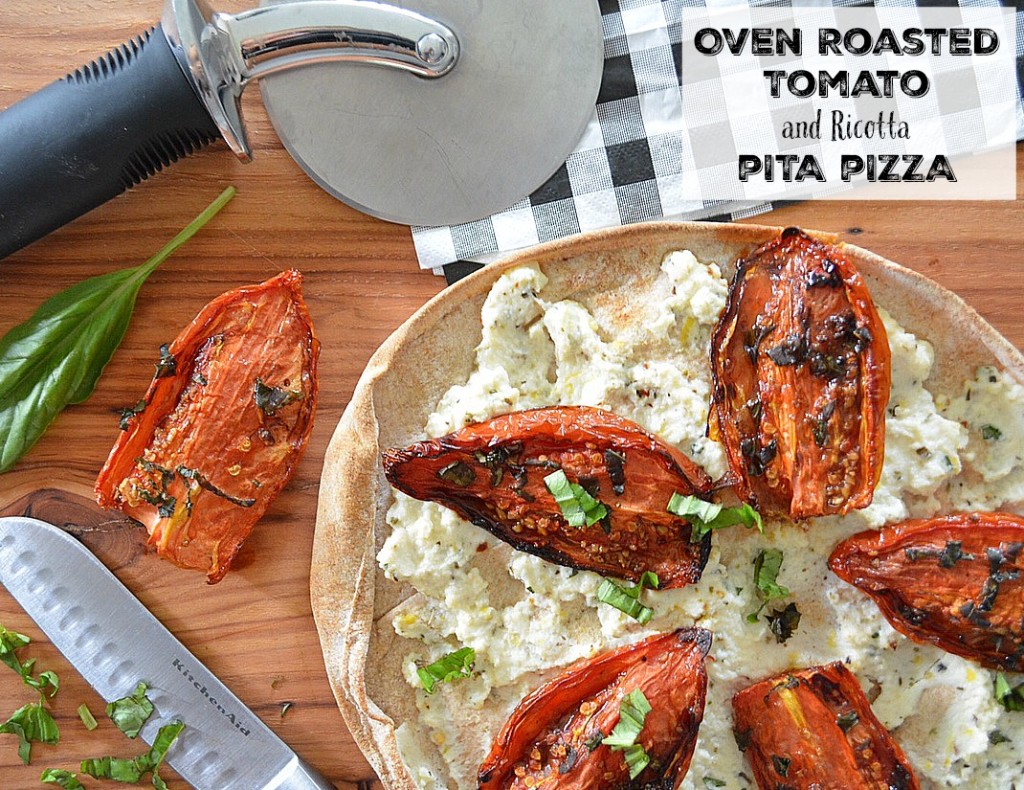 If you are like me and you live in an area of the country transitioning into fall and cooler weather, you may be looking for something to do with your final tomato harvest. This recipe is the perfect way to use the last of your tomatoes. You can ripen any green tomatoes in a paper bag for a about a week. That is exactly what I did with the rest of mine. Oven roasted tomatoes are an awesome way to condense all the great flavor of tomatoes and bring out the natural sugars by slow roasting them. Then you can freeze or can them and use them in pasta sauce or right on top of pizza like we are going to do today. Instead of using pizza sauce, we are going to top our tomato and ricotta pita pizzas with roasted balsamic tomatoes. So yummy!
Oven Roasted Tomato and Ricotta Pita Pizza
Ingredients
FOR TOMATOES
4 large tomatoes of your liking, sliced in half lengthwise (I used the Polish variety from my garden)
1 tsp minced garlic
1 tbsp balsamic vinegar
2 tbsp olive oil
1/4 tsp sea salt
2 tbsp chopped basil
FOR RICOTTA TOPPING
1 c whole milk ricotta
1 tsp lemon zest
2 tbsp basil, chopped and divided
1 tsp dried oregano
1/2 tsp sea salt
1 tsp chili flakes (optional)
2 large pita breads
Instructions
Preheat oven to 300 degrees. Line a baking sheet with foil or parchment paper.
In a large mixing bowl, combine olive oil, garlic, sea salt balsamic vinegar and tomatoes. Use hands to coat tomatoes with the mixture.
Set tomatoes on baking sheet cut side up. drizzle with any leftover oil and vinegar from the bowl.
Top with basil. Place in oven. Cook 1.5 hours until tomatoes shrivel and begin to brown around the edges.
While tomatoes cook, prepare the ricotta topping by combining ricotta cheese, oregano, lemon zest, chili flakes and sea salt. refrigerate until tomatoes are ready.
Remove tomatoes from oven and allow to cool at room temperature for 20 minutes.
Spoon ricotta mixture onto pita bread.
Top with tomatoes and place on baking sheet. Bake in oven for 15 minutes. Garnish with fresh basil.
http://freshandfit.org/oven-roasted-tomato-and-ricotta-pita-pizza/