Primal/Gluten-Free Personal Pizza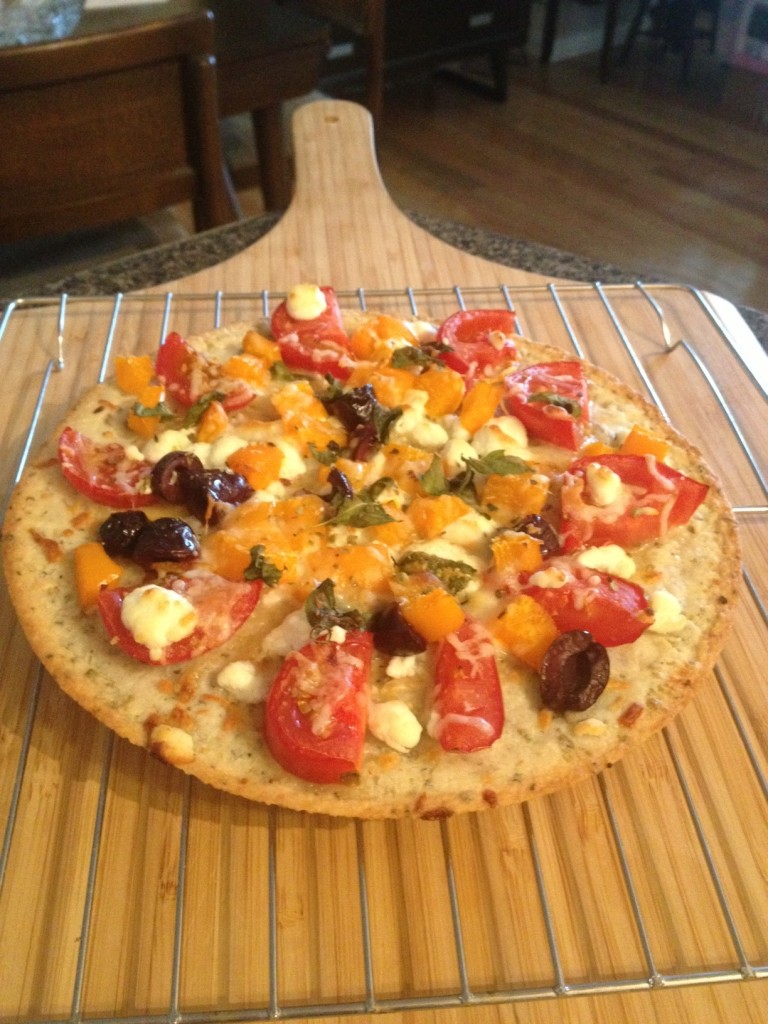 I have been practicing mastering the perfect Primal pizza since I gave up grains and all things wheat. I have failed every time. Until now. The pizza always came out crumbly and not like the pizza crusts I grew up loving so much. I wanted something I could load with nutritious and delicious ingredients that would stand up to the challenge… and the crust HAD to be crispy. Although Tapioca Starch is lacking in nutrition, it is the reason this crust works and is sort of the saving grace. So we will let it slide until I find something that works as well.
So here is the the recipe for the best pizza crust I have created so far. I used a pie pan to achieve a perfect circle and to keep it portion controlled. You could very easily split this pizza in half for two people and have it with a salad for a very well rounded dinner or lunch. I hope you enjoy it as much as I have!
INGREDIENTS:
1 Cup Almond Meal
2 TBSP Tapioca Starch
1 tsp Dried Oregano
1/2 tsp Dried Basil
1/2 tsp Red Pepper Flakes, for heat (Optional)
1/2 tsp Fresh Minced Garlic
1/2 tsp Sea Salt
1 Egg
1/3 Cup Unsweetened Almond Milk
 
DIRECTIONS:
Preheat oven to 425
Grease a 9X9 pie pan
Combine Dry ingredients and whisk together to combine and break up clumps.
Add wet ingredients to the dry and mix together well.
*This recipe is runny, unlike traditional pizza dough- so the pie pan works best.
Bake dough 15- 20 minutes until it starts to become solid and slightly golden around the sides
In the meantime, prepare the ingredients you would like to top your pizza with.
I used:
Bell pepper
Cherry Tomato
Kalamata olives
Shredded Italian Cheese
Goat Cheese Crumbles
Fresh Lemon Basil

Take pizza out of oven and top with ingredients. Bake another 10-15 minutes. I also turned the broiler on for the last few minutes to make the cheese golden and the crust nice and crispy.
Enjoy!