Roasted Vegetables with Herb Butter Sauce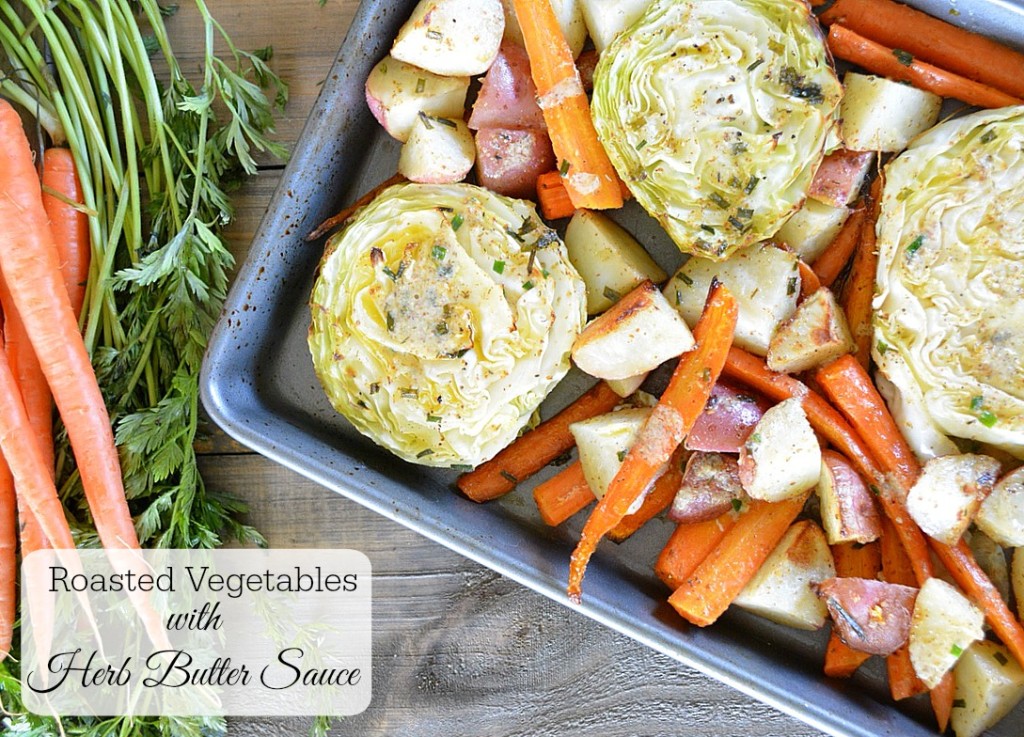 Easter is a holiday that evokes thoughts of colorful and bright food with fresh flavors. In today's recipe, I created a simple and wholesome side dish of roasted vegetables with a creamy and tangy herb dressing. I wanted to make something different from he traditional potato salad. Cabbage, carrots, and potatoes are hearty and have the most wonderful flavor when roasted with a light char. This recipe for roasted vegetables with herb butter sauce will look gorgeous on your Easter table.
Roasted Vegetables with Herb Butter Sauce
Ingredients
1 head of cabbage
1 bunch of carrots (5-6 medium carrots), sliced lengthwise
1 lb baby red potatoes, quartered
FOR SAUCE
1/3 c olive oil
1/3 c grass-fed butter, melter
2 tbsp Dijon mustard
1 tsp minced garlic
2 tbsp chives, finely chopped
1 tsp dried dill
Sea salt and black pepper to taste.
Instructions
Preheat oven to 400. In a small bowl, whisk together olive oil, garlic, butter, dill and chives. Reserve 1/3 cup of sauce for after roasting.
Slice cabbage to about 1 inch thickness. Place in a large bowl.
Prepare carrots and potatoes. Add to bowl with cabbage.
Pour sauce over vegetables. Use hands to mix and coat vegetables.
Place vegetables on baking sheet. Season with salt and pepper.
Bake 30 minutes. Turn broiler to 550 and broil 5 minutes or until vegetables are lightly charred. pour reserved sauce over vegetables right before serving.
http://freshandfit.org/roasted-vegetables-with-herb-butter-sauce/