Seasonal Chopped Salad with Herbed Goat Cheese Dressing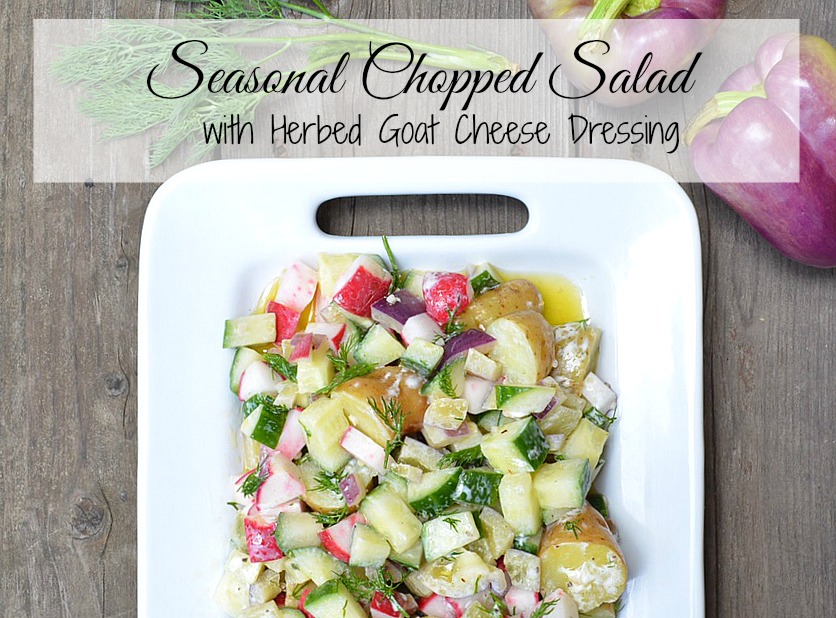 Farmers markets and grocery stores are full of vibrant produce this time of year. You can find many unique varieties of old favorites. Just today I saw "Apple-cots" which I am guessing is a hybrid of an apple and apricot. I couldn't resist picking up purple bell peppers. They were something I have never seen before, so I thought they would be perfect for today's salad recipe. I am going to serve this creamy herbed goat cheese dressed salad tonight alongside some grilled sausages. This seasonal chopped salad has some great springtime favorites in addition to the purple peppers; crunchy radishes, cool cucumbers and tender fingerling potatoes. My favorite part is the creamy herbed goat cheese dressing with fresh lemon and dill.
Seasonal Chopped Salad with Herbed Goat Cheese Dressing
Ingredients
1 c fingerling potatoes
1 c radishes, quartered
1 c bell pepper, diced
1c seedless cucumber, diced
1 tsp minced garlic
1/3 c olive oil
Juice of 1 lemon
1 handful of dill, finely chopped
2 tbsp soft herb goat cheese
Sea salt and black pepper to taste
Instructions
Bring a pot of water to boil. Add potatoes. Simmer 15 minutes or until fork tender. Strain potatoes and chill for at least 20 minutes.
In the meantime, chop vegetables and combine in a large bowl.
Whisk together olive oil, goat cheese, garlic, lemon juice and dill until smooth. Season with salt and pepper.
When potatoes are cool, slice them in half and add with the rest of vegetables.
Pour dressing over vegetables and stir. Refrigerate until serving.
http://freshandfit.org/seasonal-chopped-salad-with-herbed-goat-cheese-dressing/