Spicy African Peanut Stew with Freekah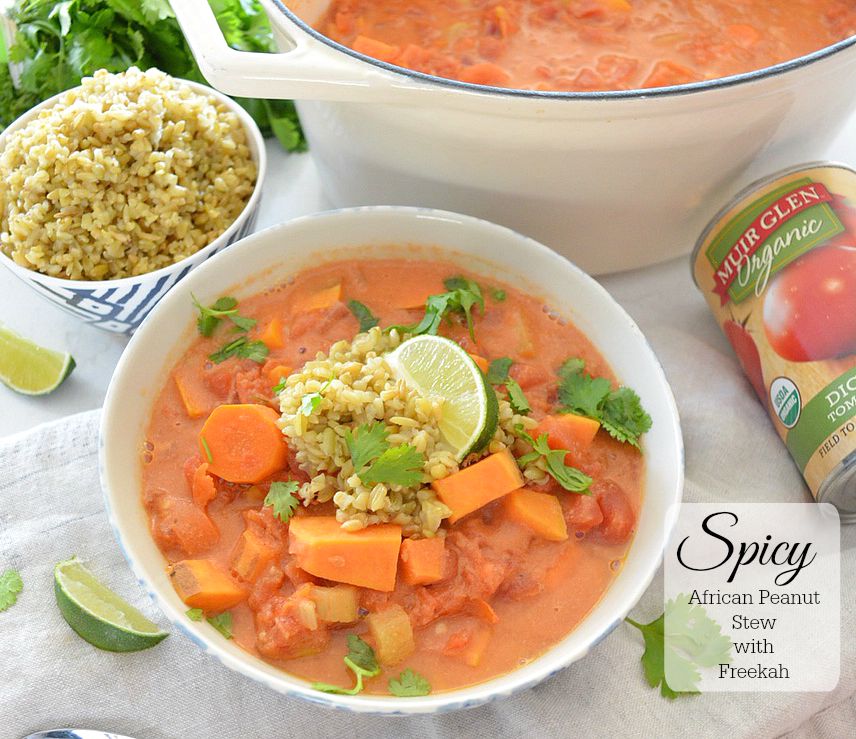 One of my favorite go-to recipes during the cool months is this Spicy African Peanut Stew. I can't think of a better way to kick off Autumn than with a hearty and healthy stew. This recipe has a lot of flavors going on which makes it very comforting. Spicy chilies add a kick while sweet potatoes and carrots add nice bulk and  although you don't usually find peanut butter in stew recipes, it is what makes this recipe oh so good. Usually I ladle this stew over brown rice, but today I am using freekah; a chewy, earthy and nutty grain.
Spicy African Peanut Stew with Freekah
Ingredients
2 tbsp coconut oil
2 celery stalks,chopped
2 carrots, thinly sliced
1 large sweet potato, diced
1/2 c red onion, diced
1 tbsp minced garlic
1 tbsp minced ginger
2 cans petite diced tomatoes with green chiles
2 cans diced tomatoes
1/2 c peanut butter (I used chunky)
1 c water
Handful of chopped cilantro, garnish
1 lime, cut into wedges for garnish
1 c freekah or brown rice
Instructions
In a Dutch oven, heat coconut oil over medium heat. Add ginger and garlic. Stir and cook 5 minutes with lid on.
Add carrots, sweet potato, celery and onion. Cook 7 minutes with lid on, stirring occasionally.
Cook rice according to package directions.
Add tomatoes. Stir and bring to a simmer. Allow to simmer 15 minutes.
Add water and peanut butter. Stir to incorporate. Cook an additional 10 minutes.
Add 1/2 c rice to a bowl and ladle stew over the top. Garnish with lime and cilantro.
http://freshandfit.org/spicy-african-peanut-stew-with-freekah/