Springtime Pea and Parmesan Fettuccine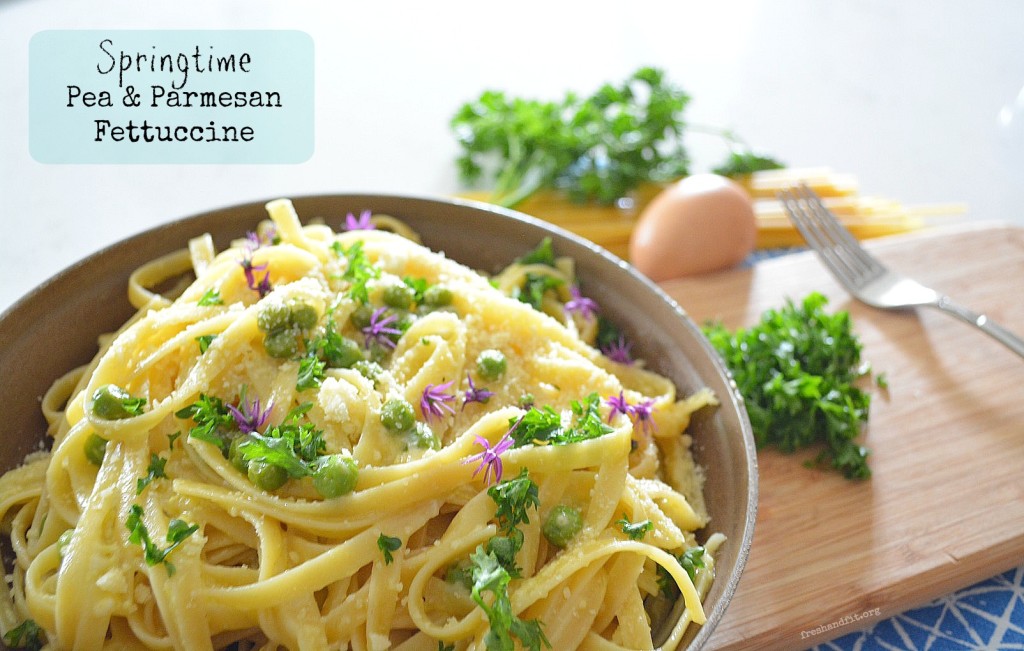 Most of the recipes I develop are on the lighter side. Today I am sharing a springtime pea and parmesan fettuccine recipe that is hearty and filling, but not too heavy. The sauce is light and creamy. We are also incorporating fresh herbs and edible flowers whose flavors resemble chive or scallion; perfect for this savory dish, while their color is a vibrant gorgeous purple that will pop on your table. This is a lovely dish fit for spring evenings.
Springtime Pea and Parmesan Fettuccine
Ingredients
1 lb fettuccine pasta
4 tbsp olive oil
1 tbsp grass-fed butter
4 basil leaves
1 tbsp chives or allium flowers , minced
1 tbsp garlic, minced
1 c peas
1/2 c Parmesan cheese + 1/4 c for topping.
1/3 c white wine
1/3 c whole milk
1 egg, beaten
1/2 c Parsley, chopped
Instructions
Begin by cooking pasta according to package.
While pasta cooks, melt butter and olive oil over medium heat in a large pan. Add garlic and cook 2 minutes.
Add peas and basil. Cook 3 minutes.
Whisk in white wine and milk. Heat for 5 minutes to cook off alcohol. Turn heat off.
Once pasta is cooked, strain and add to sauce immediately.
Quickly stir in egg to coat pasta. Stir in Parmesan and stir once more.
Serve with extra parmesan cheese, chives/allium and parsley on top.
http://freshandfit.org/springtime-pea-and-parmesan-fettuccine/