Strawberries and Cream Protein Pie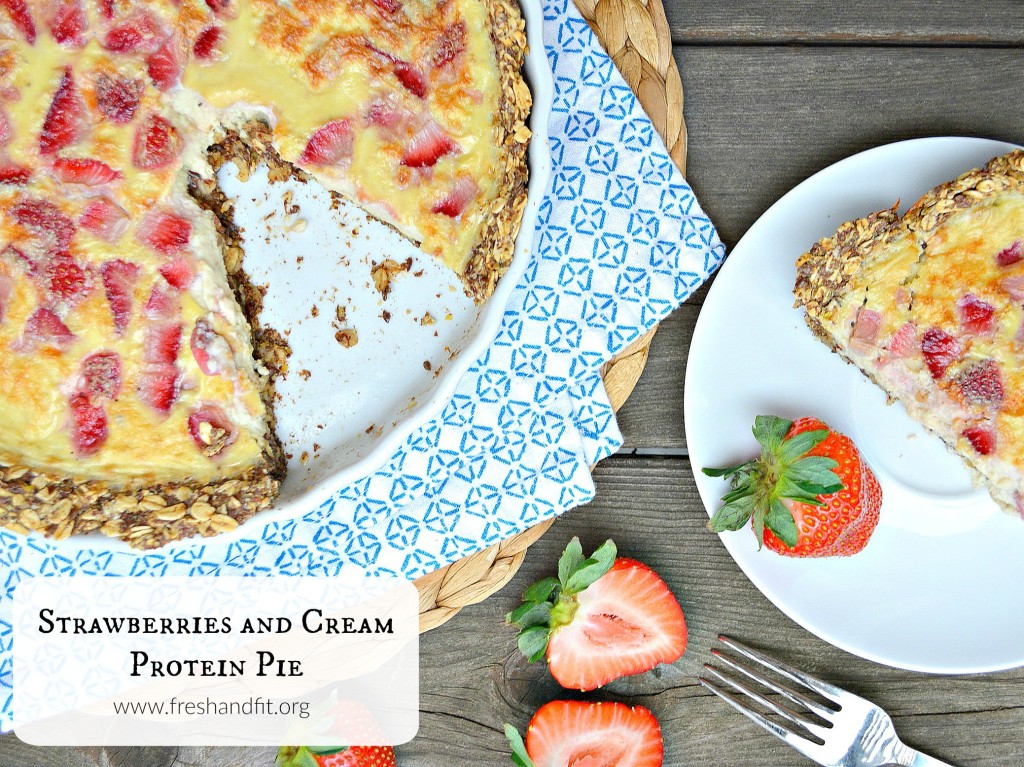 Here in Chicago the weather has been up and down. Today for example, the temperature was 54 degrees and tonight we are going to be getting 1-3 inches of snow. Welcome to living in the great Midwest. Anyhow, the 5 minutes of warmer weather prompted me to start testing out Spring recipes. I decided on this delicious oat and flaxseed crusted Strawberries and Cream Protein pie. It is like a cross between cheesecake and custard pie.
I've been working with an awesome protein and supplement company, Muscle Sport, creating recipes that incorporate their products,  so I am using their vanilla protein in today's recipe. You can use any protein that you prefer. There is a ton of protein in addition to a great complex carb source, oats. Fresh strawberries and almond milk give this pie a delicious flavor without being overly sweet. Spring will be in the air no matter where you live once you try this lovely pie!
Strawberries and Cream Protein Pie
Ingredients
FOR CRUST
1.5 c old fashioned oats
1 c ground flaxseed
1 c water
2 tbsp maple syrup
1/4 tsp sea salt
FOR FILLING
1 c strawberries, finely chopped
1/2 c vanilla protein powder
1/2 c unsweetened almond milk
1 egg, lightly beaten
1 tsp tapioca starch
Instructions
Preheat oven to 325. In a large mixing bowl, combine oats, flaxseed, sea salt and water. Stir to moisten. Stir in maple syrup
Grease a 9 inch round pie pan with coconut oil. Pour crust into pan and press to fit pan.
Bake 5 minutes. Remove from oven and set aside.
In a medium mixing bowl, combine egg and almond milk. Slowly whisk in protein powder and tapioca starch until well combined.
Stir in strawberries. Pour mixture over crust. Bake 60 minutes or until top is lightly browned and center is cooked through.
Cool at room temperature 20 minutes. Chill in refrigerator at least 2 hours. Slice.
http://freshandfit.org/strawberries-and-cream-protein-pie/