Strawberry Banana Protein Ice Cream with Toasted Coconut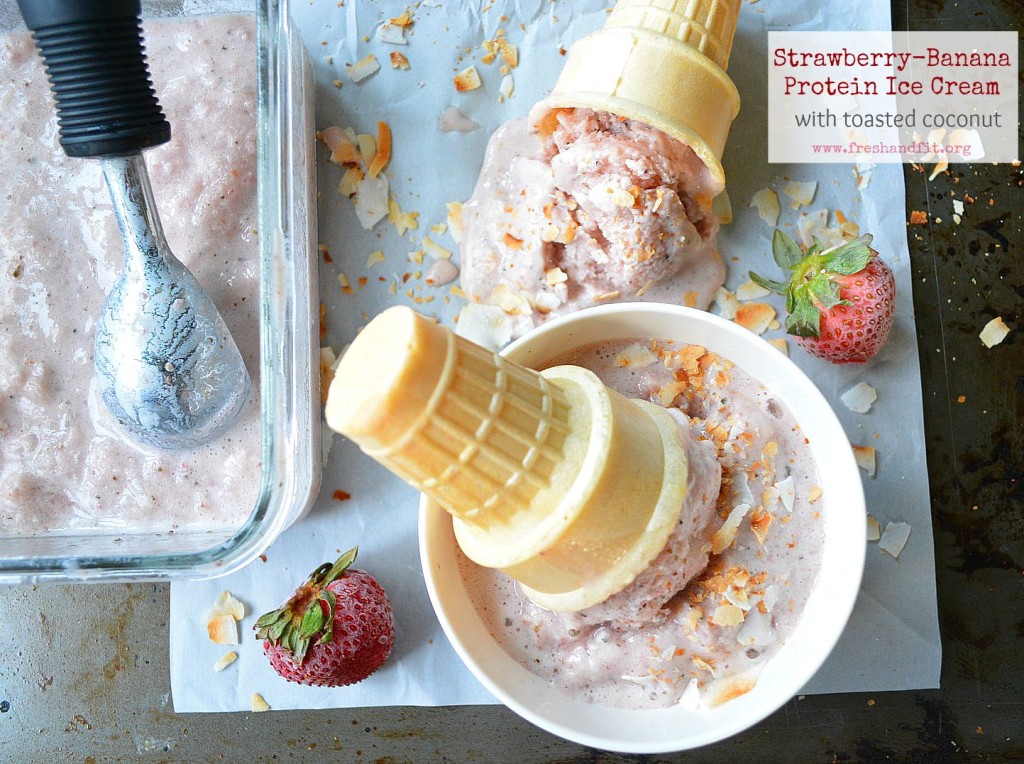 What would summer be without an ice cream recipe? And since this is Fresh and Fit, it has to be a healthy yummy frozen dream. Something with fresh fruit, toasty goodness and a light creaminess. That is what you will find in this strawberry banana protein ice cream with toasted coconut. That's right, protein! You will be adding a scoop of your favorite vanilla protein powder to this recipe. The end result is a light and frosty not heavy ice cream, or icy cream if you will, that you can eat in a cone or right out of a bowl. It satisfies the sweet and creamy craving with a little toasty crunch from the coconut. You aren't regretting eating ice cream and you are satisfied; a win win if you ask me!
Strawberry Banana Protein Ice Cream with Toasted Coconut
Ingredients
5 ripe frozen strawberries (freeze strawberries 2 hours or overnight)
1/2 a ripe frozen banana (freeze 2 hours or overnight)
2 c unsweetened almond milk
1 scoop vanilla protein powder
4 tbsp unsweetened coconut flakes
Instructions
In a blender, combine all ingredients. Blend until smooth.
Pour into small glass tupperware. Cover and freeze for 1 hour.
Remove from freezer and stir, scraping sides. Return to freezer for 3 more hours.
Heat a small pan over medium heat. Add coconut flakes and toast for 3-5 minutes, until just lightly golden brown.
Once frozen, use an ice cream scoop to scoop out ice cream. Top with toasted coconut.
http://freshandfit.org/strawberry-banana-protein-ice-cream-with-toasted-coconut/