Strawberry Basil Lemonade Cocktail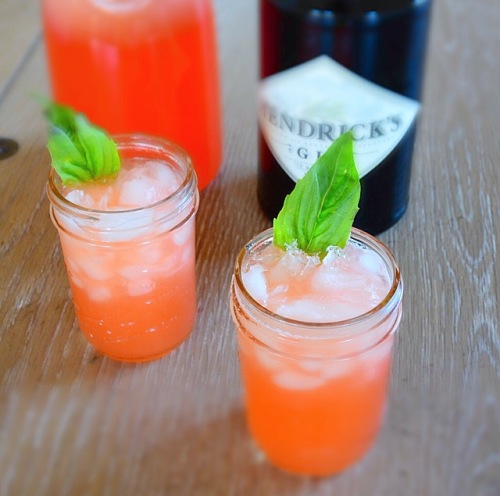 This Strawberry Basil Lemonade Cocktail is a great make-ahead cocktail to have at a party. Having a big batch prepared ahead of time saves you from having to muddle cocktails when you can be mingling with guests. It also looks really pretty set out and would be a refreshing libation for a summer bbq. Unfortunately, it is still the middle of winter here in Chicagoland- but a girl can pretend, right? You can serve it with 1.5 ounces of your favorite spirit or even with a float of champagne. Cheers and Happy New Year!!
1 cup organic sugar
4 cups water
4 lemons
1 cup strawberries
5 large basil leaves (plus additional leaves for garnish)
In a small sauce pan, bring 2 cups water and sugar to a boil. Simmer until sugar dissolves. Pour into a jar and refrigerate 1 hour.
Remove rind from lemons and run through juicer. Juice strawberries and basil. Run 2 cups water through juicer to clear out any bits left behind. Refrigerate until simple syrup is chilled.
Combine simple syrup and juice in a large pitcher. Refrigerate until ready to serve.
Pour into glasses over ice, add spirit of your choice and garnish with a basil leave.