Sweet N' Tangy Carrot Slaw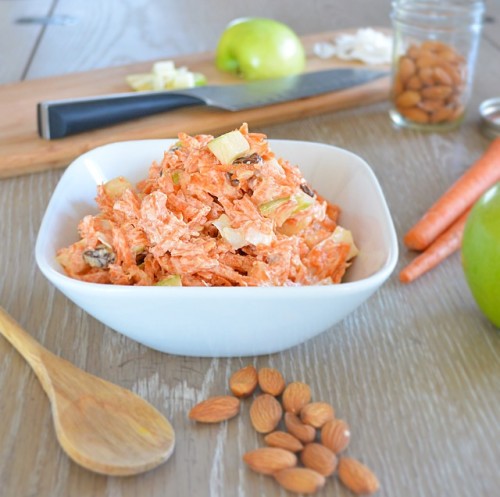 Today's recipe is for sweet n' tangy carrot slaw. The classic carrot salad calls for much more mayonnaise so I substituted, you guessed it, yogurt! Now, I am a fan of fat and recommend eating the highest quality fats in your diet (grass-fed, organic). But, for a side dish I like to keep the fat down whenever possible so you can have an abundance of whatever else you might be pairing it with. I also don't think the yogurt makes the recipe less flavorful, so why not shed a few grams of fat and have an extra helping? Sounds like a win win to me!
4 c grated carrots
1/4 c toasted almonds, chopped
1 apple chopped
1/3 c raisins
1/4 c coconut, shredded unsweetened
1 tbsp organic mayonnaise
1/2 tsp apple cider vinegar
1 tsp honey
2/3 c plain yogurt
Combine carrot, apple, raisins, coconut in a medium sized bowl.
Stir in yogurt, mayonnaise, vinegar, and honey.
Refrigerate until ready to serve.