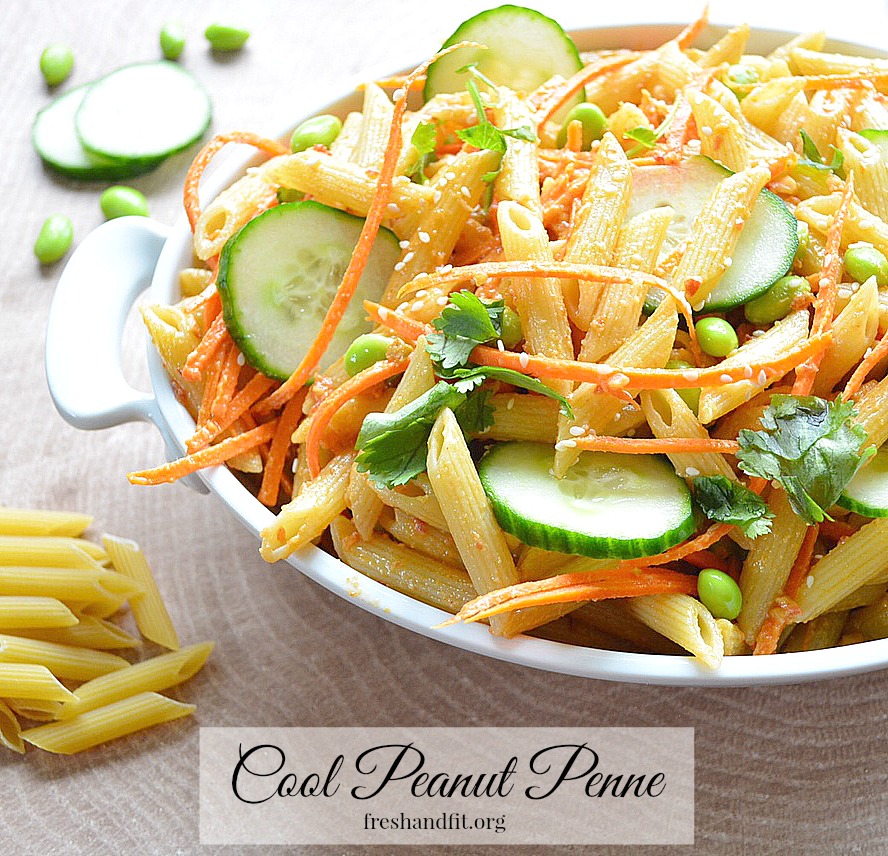 Yesterday on makeyourbestself.com, a self help website I contribute to, I discussed my feelings on carbs and why I believe that even simple carbs can be part of a healthy diet. The key point I stress is balance. You can read the article here. Today's recipe is another great balanced recipe with ample plant based protein, healthy fat, and of course, carbs. This cool peanut penne would be an awesome dish to bring as a side dish to summer parties and makes a delicious vegan option as well. I used the same peanut sauce as the one featured in my spicy peanut zoodles recipe. If you would prefer to use a zoodle (zucchini noodle) instead of pasta, that recipe is perfect.
Ingredients
4 c penne pasta, dry
1 c shredded carrots
1 c edamame beans, thawed if frozen
1 tbsp sesame seeds, lightly toasted
1 c cucumber, thinly sliced
1 handful cilantro, chopped
For peanut sauce
5 tbsp toasted sesame oil
2 tbsp fresh lime juice
2 tbsp chili paste
4 tbsp peanut butter, I used crunchy
Instructions
Cook pasta according to package.
While pasta cooks, prepare vegetables and toppings.
In a small bowl whisk together ingredients for peanut sauce.
Strain pasta, toss with half of peanut sauce and refrigerate 30 minutes.
Add veggies, and the rest of the peanut sauce and mix well. Chill until serving. Garnish with sesame seeds and cilantro.
http://freshandfit.org/cool-peanut-penne/