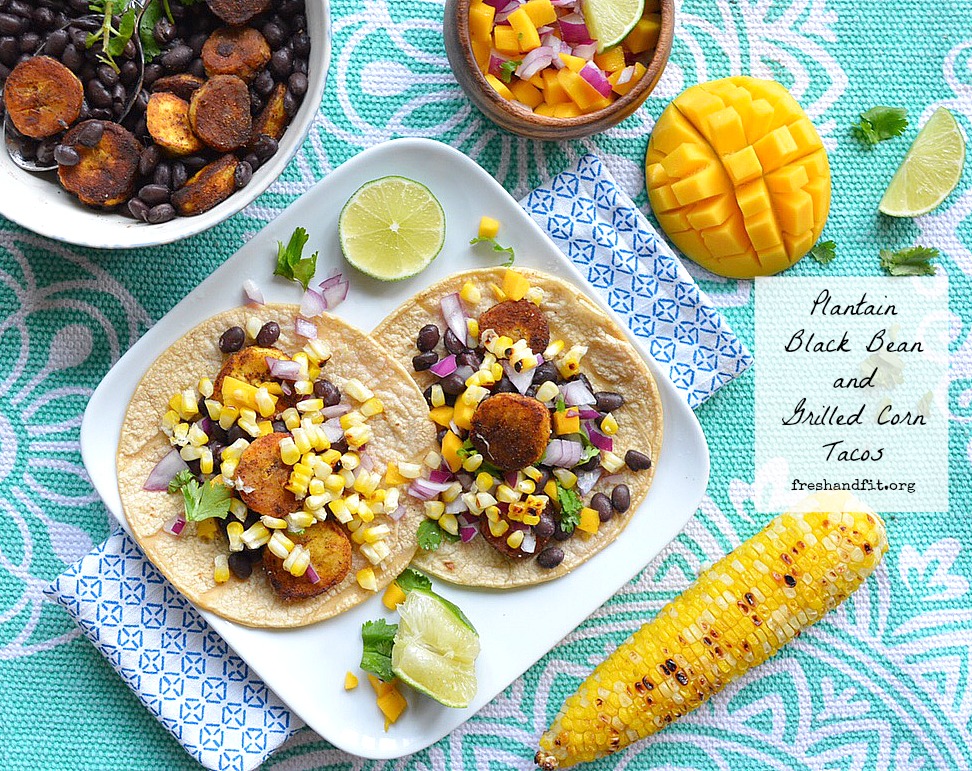 If you love latin flavors, today's recipe is going to be a hit in your house.  These plantain, black bean and grilled corn tacos have flavors ranging from sweet and tangy to smokey and spicy. Even those who are used to carnivore forward tacos won't miss the meat in these tacos. This isn't a complex recipe but feels very exotic and fancy for a taco. Best of all, this plant based taco is full of great nutrition. The natural flavors marry so well that you don't need a ton of ext a seasoning or sauces.
Plantain, Black Bean and Grilled Corn Tacos
Ingredients
6-8 corn tortillas
1 plantain, sliced into 1/2 inch slices
1 ear of corn
1 can black beans , drained
1/2 c red onion, diced
1 c mango, diced
Juice of 2 limes
2 tbsp olive oil
1 tbsp cumin
1/2 tsp chili powder
Pinch of cayenne powder
1 handful cilantro, chopped
Instructions
Preheat grill to 400.
Boil a medium sized pot full of water. Add ear of corn (without husk) boil ten minutes. Move corn to grill. Lightly grill the corn until lightly charred turning every 5 minutes.
Slice kernels off corn into bowl.
In a separate small bowl, toss plantain slices in cumin, chili powder and cayenne.
Heat olive oil in a pan over medium heat. Add plantains, cook 5 minutes each side.
Assemble plantains, corn, black beans, red onion, and mango on tacos.
Top with fresh lime juice and cilantro.
http://freshandfit.org/plantain-black-bean-and-grilled-corn-tacos/