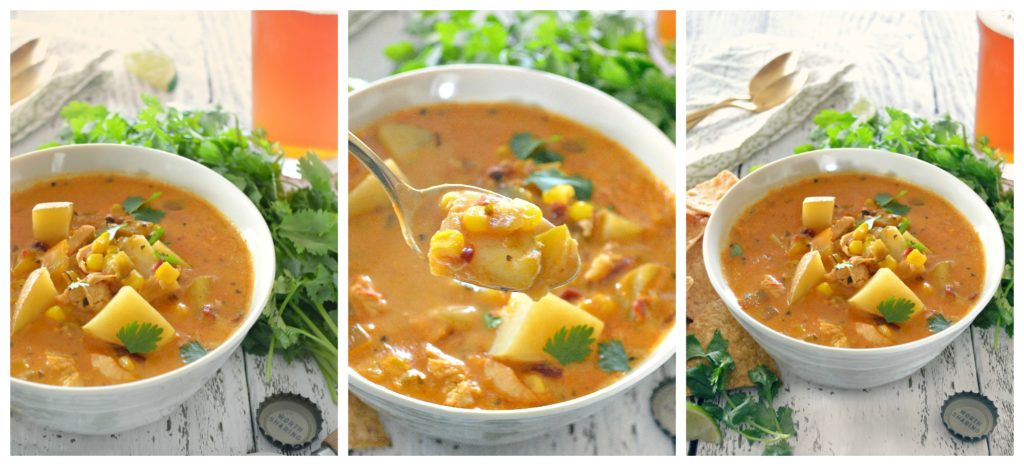 Nothing soothes on a crisp fall day quite like a bowl of rich and creamy soup. This spicy chipotle chicken corn chowder is one that delivers everything you would want in a soup–a rich broth dancing with chipotle flavor, hearty potato, corn and shredded chicken all coming together for a soup that eats like a meal.
I recommend adding the chipotle in a little at a time to adjust the spiciness to your liking. Chipotle peppers can quickly go from spicy to blazing inferno in a matter of an extra tablespoon.
Top your bowl with crushed tortilla chips, cilantro and a squeeze of fresh lime.
Chipotle Chicken Corn Chowder
Ingredients
2-6 ounce chicken breasts
2 Idaho potatoes, cut into 1 inch cubes
2 cups corn
1 cup bell pepper, diced
1/2 cup sweet white onion, diced
2 cups chicken stock
1 cup whole milk
1/3 cup chipotle in adobo sauce, sauce only.
1-4 ounce can hatched green chiles
2 tbsp all purpose flour
1 tbsp oregano
1 tbsp cumin
1 tsp garlic, minced
1 tsp onion powder
3 tbsp butter
2 tsp sea salt
Optional toppings: chopped cilantro, lime wedges, tortilla chips
Instructions
Begin by melting 1 tablespoon of butter in a pan over medium heat. Allow pan to get nice and hot. Season chicken breast with salt and pepper.
Place chicken breast on pan and cook 6-7 minutes each side. Place on a cutting board and finely chop chicken. Set aside.
In a Dutch oven, melt 2 tablespoons of butter over medium heat. Add green pepper, onion, potato, garlic, oregano, cumin and sea salt. Place lid on and cook until onion begin to soften about 10 minutes.
Add hatched green chiles, chipotle sauce and flour. Stir to combine. Pour in chicken stock and whole milk. Stir regularly until flour is dissolved.
Allow chowder to come to a boil. Reduce heat and add chicken and corn. Simmer uncovered 20 minutes.
Serve with lime wedges, cilantro and tortilla chips.
http://freshandfit.org/chipotle-chicken-corn-chowder/