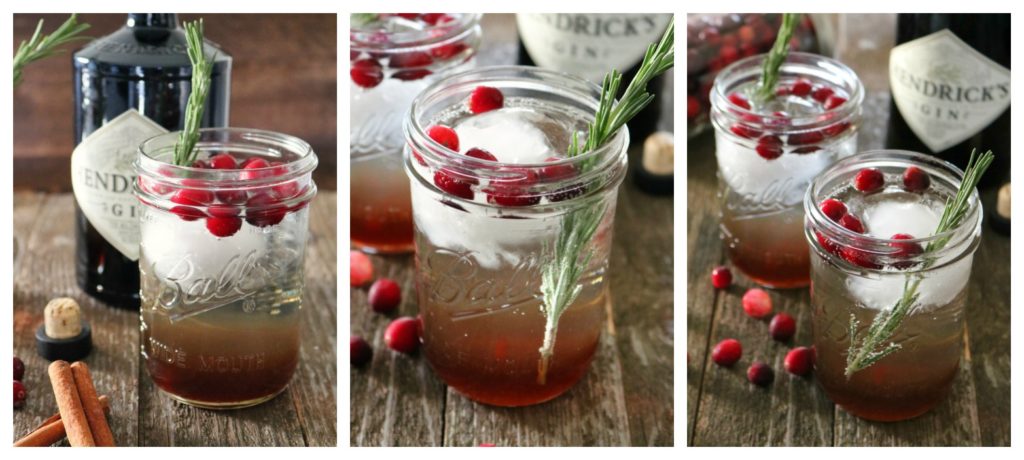 Nothing kicks the holiday season off better than a homemade craft cocktail to serve your guests or sip on as you decorate the house and listen to Christmas music. I love creating from scratch mixers for cocktails rather than purchasing store bought mixers. It gives so much more control over the quality of ingredients and is a fun way to experiment and put your signature twist on the drinks your guests will imbibe in.
For this holiday inspired gin fizz cocktail, I created a syrup using Demerara sugar with a deep molasses flavor. The syrup is simmered with fresh whole cloves, ginger, and cinnamon to add a spicy background along with sweetness to the cocktail. I used Hendricks gin because of its bright herbal flavor, but you can use your favorite brand or even whiskey would be amazing paired with this spicy syrup. The cranberry and rosemary garnishes are the icing on this holiday cocktail and give a super festive look.
Ingredients
2 oz gin
2 oz spiced syrup
Club soda
Sprig of rosemary
Fresh cranberries
FOR SPICED SYRUP
1 cup water
1 cup Demerara sugar
6 whole cloves
1 cinnamon stick
1 tbsp fresh grated ginger
Instructions
Combine ingredients for spiced syrup in a saucepan over medium/low heat. Bring to a simmer. Stir and reduce heat. Simmer 15 minutes uncovered.
Strain syrup over a small bowl. Pour syrup into a mason jar and refrigerate 2 hours.
To a cocktail glass, add ice or 1 large ice cube, gin, and spiced syrup. Stir. Top with club soda water and garnish with rosemary and cranberries.
http://freshandfit.org/spiced-holiday-gin-fizz-cocktail/