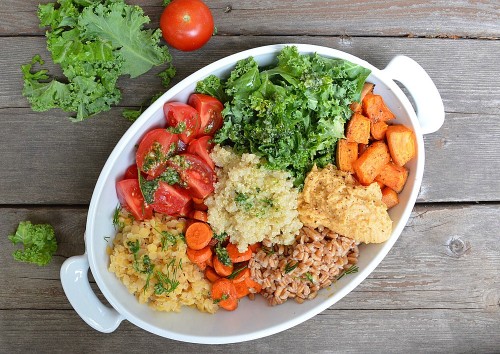 Lately I have dramatically increased my vegetable intake. I am already a huge fan of of the produce department, but when my boyfriend is away for work I do not buy meat and eat mostly vegetarian. One of my favorite things to eat is a huge nourish bowl. I will often make one after a workout or for lunch. It is basically a salad with a spectrum of ingredients ranging from seeds and roasted vegetables to dried fruit and grains. You can absolutely add meat or protein of your choice. The one I am sharing with you today is a vegetarian nourish bowl, but grilled chicken would be a wonderful addition. Simply take a look in your refrigerator or pantry and get creative!
Quinoa, Lentil, and Farro Nourish Bowl
Ingredients
2 c kale, chopped
1 cup cherry tomatoes, cut into 1/4s
1/3 c cooked quinoa
1/3 c cooked lentils
1/3 c cooked farro
1/2 c sweet potato, cubed
1/2 c carrots, sliced thinly
1/3 c hummus
juice of one lemon
1/4 c fresh dill, chopped
1 tsp garlic, minced
4 tbsp olive oil, divided
1 tbsp balsamic vinegar
sea salt and black pepper to taste
Instructions
Preheat oven to 400. Toss carrots and sweet potatoes in 2 tbsp olive oil and balsamic vinegar. Spread onto a parchment paper lined baking sheet. bake 20 minutes.
In the meantime cook farro, quinoa, and lentils according to package directions.
Assemble kale, tomatoes, and hummus in a large bowl. When sweet potatoes and carrots are cooked add to bowl along with farro, quinoa and lentils.
Whisk together remaining olive oil, lemon juice, dill, and garlic. Pour over bowl. Season with salt and pepper.
http://freshandfit.org/quinoa-lentil-and-farro-nourish-bowl/