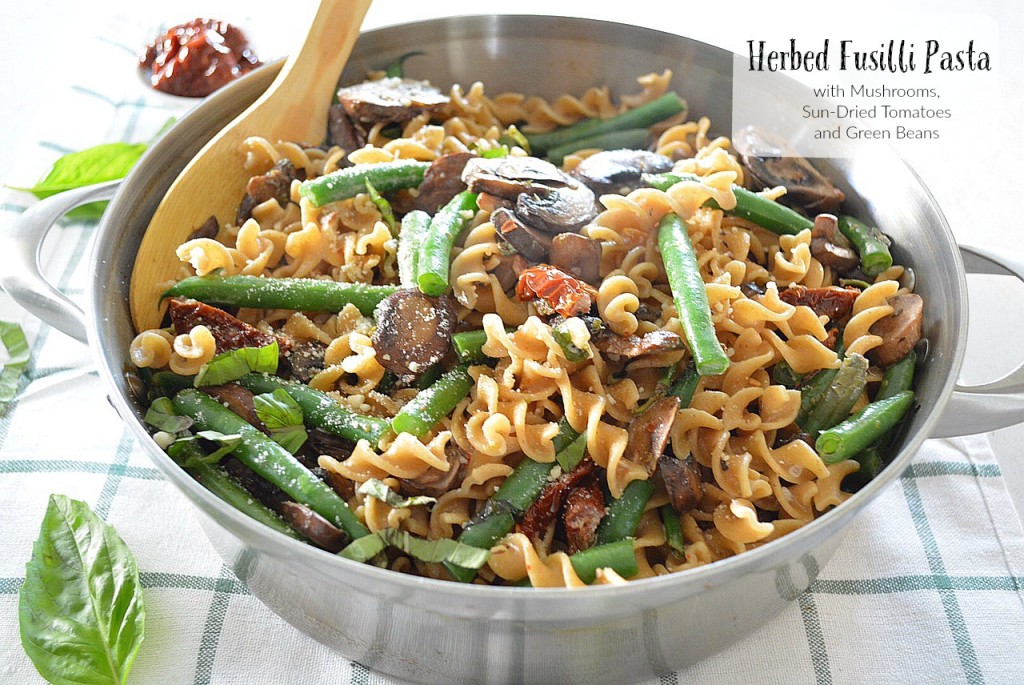 As you can tell by scrolling through my blog, the majority of my recipes are plant-based. I try to eat a mostly plant-based with a sprinkling of animal protein throughout the week. I consider myself a part time vegetarian. If I do purchase meat, I make sure it was held to high standards and practices. My hat goes off to strict vegans and vegetarians. It is a very disciplined and aware way of life. I try to do the best I can giving the knowledge I continue to gain about the meat industry and animal welfare. I don't try to push my beliefs on anyone, I simply believe in doing your best and maintaining your ethics the best you can. Now onto today's recipe…
Give your pasta a nutritional boost with fresh veggies in this herbed fusilli pasta recipe. Hearty mushrooms take the place of meat for a filling plant-based dish perfect for chilly fall days.
Herbed Fusilli Pasta with Mushrooms, Sun-Dried Tomato and Green Beans
Ingredients
1 16oz package of fusilli pasta
1 8oz package of sliced baby portobello mushrooms
1/2 c sun-dried tomatoes, packed in olive oil, thinly sliced
2 tbsp oil from sun-dried tomatoes
2 cups green beans, sliced in half
1/2 c grated parmesan cheese, organic preferred
1 c heavy cream, organic preferred
1 tsp dried oregano
4 tbsp basil, chopped
1 tsp chili flakes
Instructions
Begin by boiling water for pasta. In the meantime, sauté mushrooms in 2 tbsp of olive oil from sun-dried tomatoes in a separate pan. About 10 minutes.
Add in green beans, 2 tablespoons of basil, oregano, chili flakes and sun-dried tomatoes. Cook 5 minutes.
Stir in heavy cream and bring to a simmer.
Cook pasta according to package directions. Drain pasta.
Return pasta to pot and pour in vegetable mixture. Stir to coat.
Serve with grated parmesan cheese and basil.
http://freshandfit.org/herbed-fusilli-pasta-with-mushrooms-sun-dried-tomato-and-green-beans/