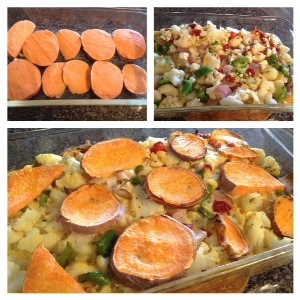 I am a huge fan of oven baked omelets or "Frittatas."  This recipe has a lot of depth and flavor. I hate when I order an omelet at restaurants and it is all egg and very little flavor. The eggs take a back seat to the other ingredients in this recipe and are really just the glue that holds all the goodness together. It is high in protein and antioxidants. As always, you can tailor this recipe to the ingredients you have on hand in your own kitchen. Let me know how yours comes out!
1 Sweet potato sliced thin
1/2 one Red onion chopped
1/2 c chopped Bell pepper
2 c Cauliflower steamed and chopped
1/2 cup of Gorgonzola- or your favorite cheese (Parmesan, gruyere, or a sharp cheddar would be great)
3 eggs beaten
1/3 c unsweetened almond milk
1/2 c sun dried tomatoes chopped
1 Tbsp Italian seasoning (oregano,basil, rosemary, thyme)
2 tsp sea-salt
1 tsp black pepper
2 tsp crushed red pepper (optional)
2 Tbsp olive oil
.Spray/grease the bottom of an oven safe dish ( I used a 6×9 glass dish)
.Pre heat oven to 350
. Layer half of sliced sweet potato on the bottom of dish
.Bake for 20 minutes
.Steam cauliflower til soft, chop or mash with potato masher and set aside to cool.
.Saute bell pepper and onion in 1 Tbsp olive oil til beginning to soften. Set aside and allow to cool
.Beat eggs and add almond milk,cheese, seasonings,1 tsp salt, and sun dried tomatoes all in one bowl.
.Combine cauliflower and red onion and bell pepper mixture with eggs.
Pour mixture over sliced sweet potatoes
. Top with remaining sweet potatoes and brush with olive oil and sprinkle with remaining 1 tsp of sea salt
Bake for 35-40 minutes
Turn on broiler and broil on high for 5 minutes to brown sweet potatoes.
Enjoy!