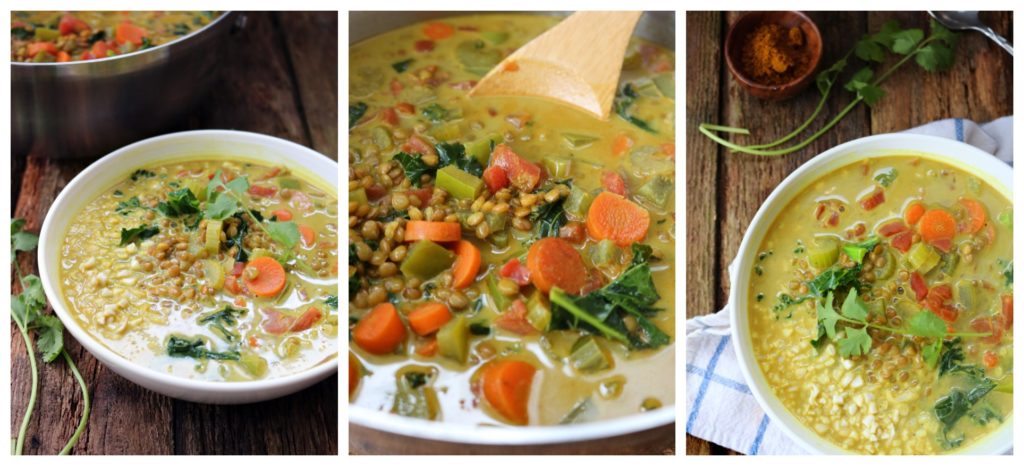 The wintertime is soup season in my house. From rich chili to creamy stew, I try to make a large batch at least once a week to have on hand for cold days. Something about a big bowl of steamy soup is so comforting, especially the stick-to-your ribs kind that is chock full of veggies. I am a curry enthusiast and have often tried and failed attempting to make my own version. It never came out as delicious as the restaurant curries I have had…until now. I finally found a curry powder that is remarkably close to the curry flavor I've come to love from restaurants. Until now, I had used Thai curry paste and always ended up with a very bland flavor. The curry powder for this recipe consists of fenugreek and cardamon which were not present in past curries I have made, and boy does it make a difference. I found this powder at World Market and falls under the Indian curry category.
The lentil and veggies in this recipe are what give it an incredible heartiness and, not to mention, healthiness. Rich in anti-oxidants and potent herbs, this soup is sure to help stave off a cold this season. You can add any of your favorite vegetables– I went with carrots, celery, bell pepper and kale. Each brings a different component to the soup and adds beautiful color. To add even more plant based kick to this recipe, serve it over cauliflower rice.
Let me know what you think of the soup by commenting below!
Curried Lentil Vegetable Soup
Ingredients
2 cups dry green lentils
1 can full fat coconut milk
4 cups vegetable broth
1 cup petite diced tomatoes, drained
2 cups kale, ribs removed and chopped
1 cup celery, thinly sliced
1/2 cup carrots, thinly sliced
1/2 cup bell pepper, chopped
2 tbsp Indian curry
2 tsp sea salt
Chopped cilantro for garnish
Cauliflower rice or traditional rice for serving
Instructions
In a large stick pot or Dutch oven, combine chicken broth and lentil, bring to a boil. Reduce heat and simmer 10 minutes.
Add celery, carrots, bell pepper and tomatoes. Simmer 15 minutes, covered.
Stir in coconut milk, curry powder and sea salt. Simmer 10 minutes uncovered, stirring occasionally
Stir in kale. Serve over cauliflower rice and garnish with cilantro.
http://freshandfit.org/curried-lentil-vegetable-soup/