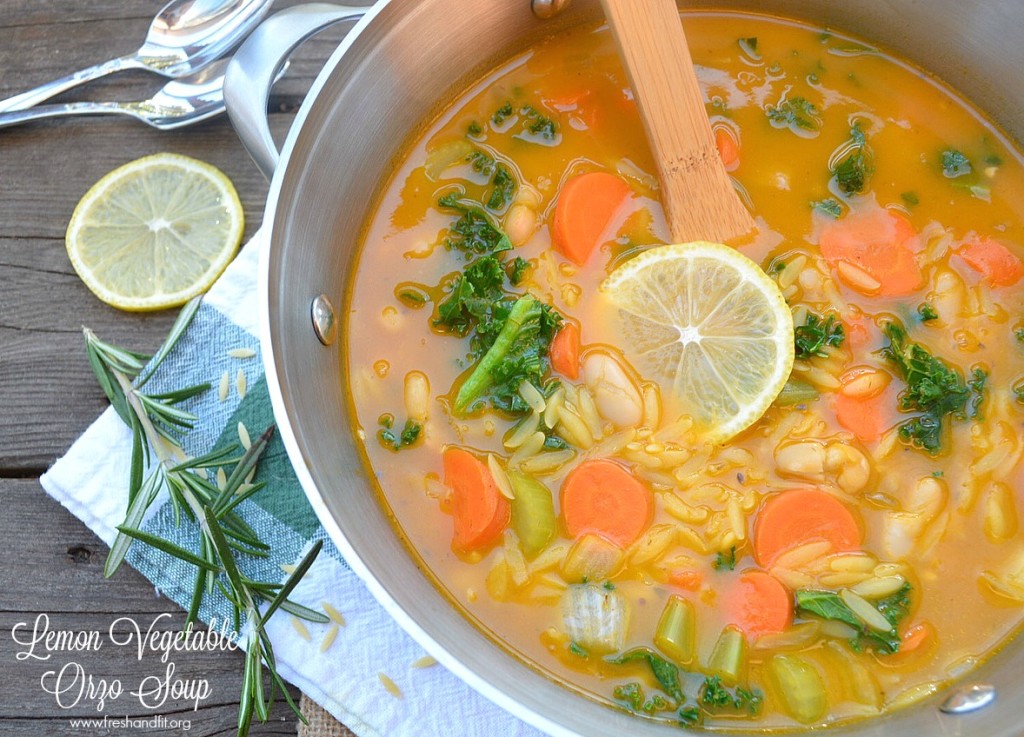 Nothing comforts on a cold day like a big bowl of soup. This recipe is vegan and full of plant based nutrition. Delicate orzo pasta combines with plenty of veggies and white beans for a hearty soup that makes a great appetizer for holiday parties or anytime. A touch of lemon brightens the whole dish and adds a nice tang. Make this lemon vegetable orzo soup on a cool Sunday afternoon and save some leftovers to start your week.
Lemon Vegetable Orzo Soup Recipe
Ingredients
1 c orzo
2 c carrots, sliced
2 celery stalks, thinly sliced
1/2 c white onion, chopped
2 c kale, stems removed and chopped
1 c cannellini beans, drained
2 tbsp olive oil
1 tsp garlic, minced
1 sprig fresh rosemary
1 tsp dried thyme
1 tsp dried oregano
1/3 c lemon juice
2 32oz chicken stock or veg stock
cracked black pepper (optional)
Instructions
In a large Dutch oven, heat olive oil over medium heat. Add garlic, carrots, onion and celery. Cover and sauté 10 minutes until onions begin to turn translucent. Stir occasionally.
Add vegetable stock and bring to a boil with lid off.
Add herbs and stir in orzo. Reduce heat to simmer and cook until orzo is tender, about 7-10 minutes.
Turn heat off. Stir in beans, kale and lemon juice.
Remove sprig of Rosemary. Serve with black pepper.
http://freshandfit.org/lemon-vegetable-orzo-soup/