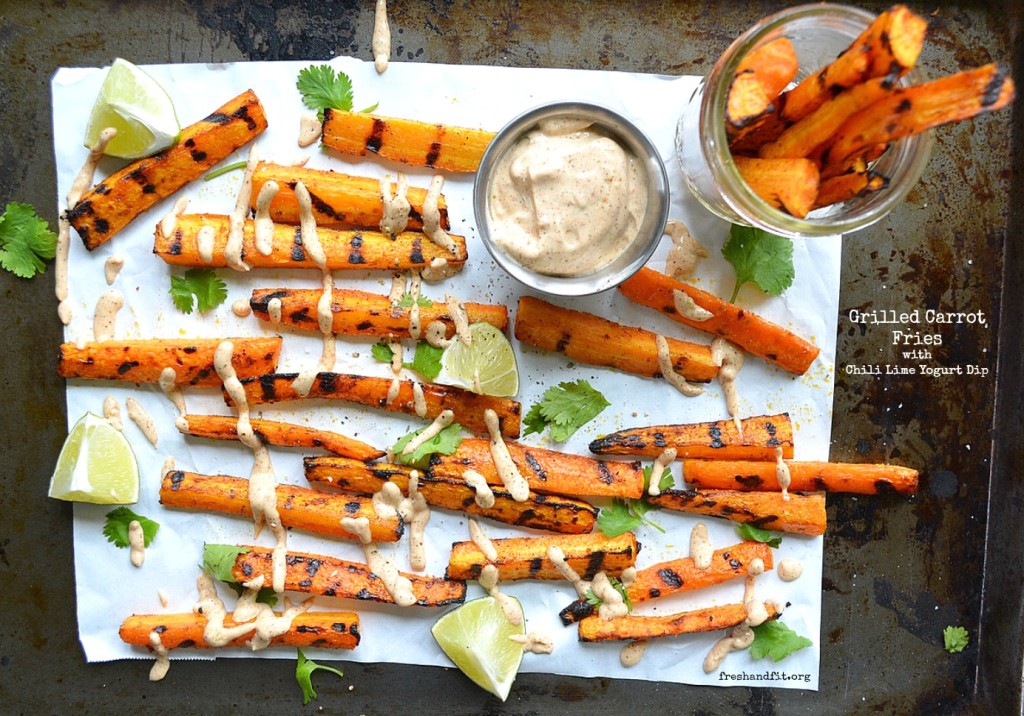 It is officially July! Only a few days left until fourth of July BBQ's and fireworks. If you are looking for more ways to cook veggies this summer, these grilled carrot fries with chili lime yogurt dip are fun and full of super healthy goodness. They are an unexpected way of serving carrots and sneaking in some great nutrition at the same time. Plus they look really pretty on a platter or served in mini mason jars. They are also an inconspicuos way to get kids to eat some veggies, just omit the cayenne pepper.
Grilled Carrot Fries with Chili Lime Yogurt Dip
Ingredients
4 medium carrots, peeled
2 tbsp olive oil
1/2 c Greek yogurt
1 tbsp lime juice
1 tsp lime zest
1/2 tsp paprika
1/4 tsp onion powder
1/2 tsp minced garlic
1 tsp chili powder
1/2 tsp cumin
1/4 tsp cayenne pepper powder
1 handful cilantro, chopped
Sea salt and black pepper to taste
Instructions
Preheat grill to 400. Cut tops off carrots. Slice carrots length wise and then again down the center.
Toss carrot wedges in olive oil, then sprinkle with onion powder and paprika. Toss again.
Set wedges on grill. Grill 5 minutes. Flip and grill 5 more minutes.
For chili lime sauce, combine yogurt, lime juice, lime zest, chili powder, cumin and garlic in a small bowl. Add sea salt to taste. Stir well. Refrigerate until serving.
Season wedges with salt and pepper. Garnish with cilantro. Serve with dipping sauce or drizzle sauce over wedges.
http://freshandfit.org/grilled-carrot-fries-with-chili-lime-yogurt-dip/