Tortilla Chili Verde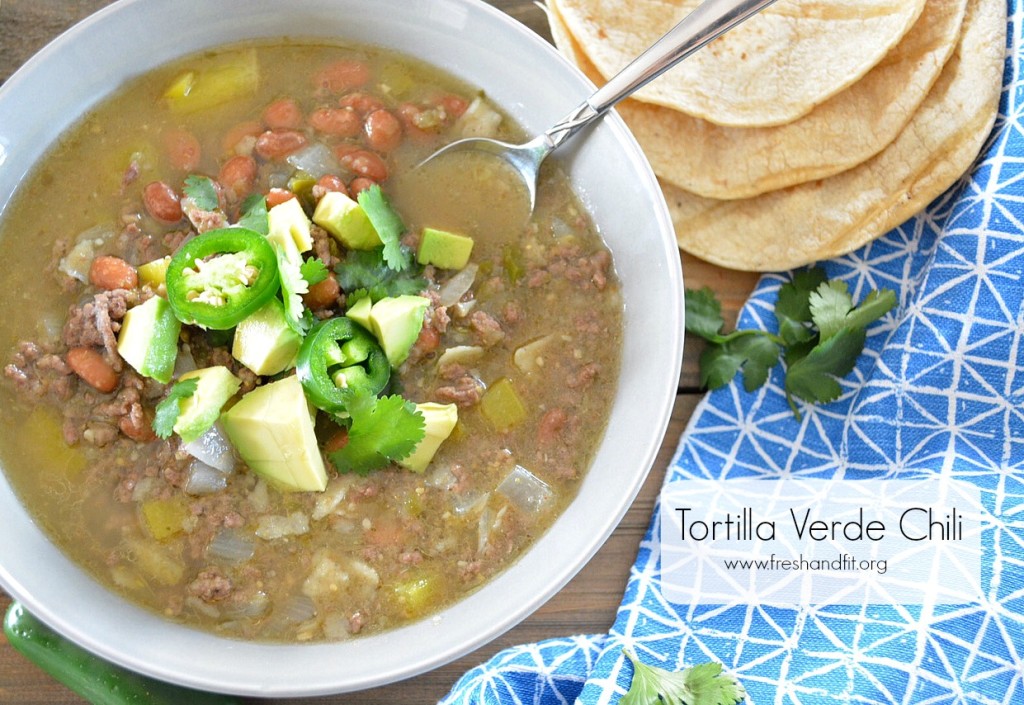 I love a meal that can be stretched and reheated throughout the week. Sunday is an ideal day to prepare a big batch of chili to have during the start of a new week. Having a healthy recipe on hand keeps me from ordering out and starts the week off on the right foot. Another fantastic aspect of this recipe is that you only use one pot for super quick cleanup.
This chili made with grass-fed ground beef, green salsa and fresh vegetables covers all the bases for a healthy recipe. Instead of using oil, I begin cooking the ground beef first and then add in my veggies which will cook in the juices from the meat. You could also use ground turkey or chicken if you prefer.
The secret ingredient in this recipe is corn tortillas. The tortillas are added to the chili and then simmered for 20 minutes. This breaks the tortillas down completely and they become a part of the broth adding a nice roasted corn background, much like tortilla soup.
Ingredients
1 lb grass fed beef
1 c white onion, finely chopped
1 bell pepper, diced
1 jalapeño
1 can pinto beans, drained
1 16 oz jar of green salsa
24 oz low sodium chicken broth
1 tbsp garlic, minced
1 tsp onion powder
2 tbsp ground cumin
1 tsp sea salt
2 corn tortillas, torn into large pieces
1 c cilantro, chopped
1 avocado, diced
Instructions
In a large pot or Dutch oven, begin to brown ground beef over medium heat.
After 5 minutes, add onion, bell pepper, jalapeño, garlic, onion powder, salt and cumin. Use a wood spoon to break up ground beef and stir well. Cover and cook 5 minutes longer.
Remove lid and add chicken broth and salsa. Bring to a boil, reduce heat and add tortillas. Simmer 20 minutes.
Stir in beans. Continue to simmer for a thicker chili or serve.
Garnish with cilantro and chopped avocado.
http://freshandfit.org/tortilla-chili-verde/