Triple Chip Cookies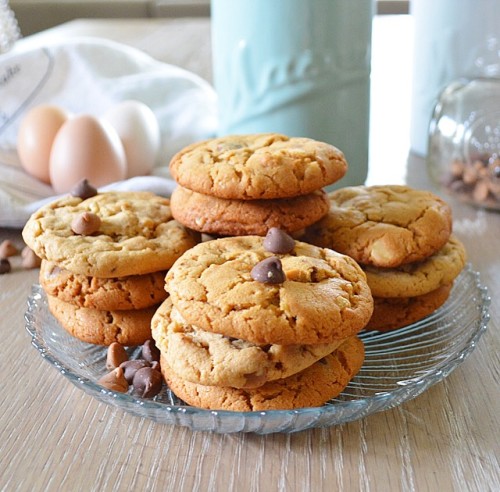 Happy Monday!
Today I am going to share this decadent recipe for triple chip cookies I came up with using our farm fresh eggs. We started getting fresh eggs from a local farm a few weeks back. It is pretty surprising to see the difference between the local eggs and the ones we usually buy from the natural food store. The natural food store eggs are triple the price and have a thinner shell with a yellow yolk. They are pasture raised and organic, but compared to the farm fresh eggs with a thick shell and almost orange yolk, it makes me wonder if they were really all that great to began with. The farm eggs are only $3.00 for a dozen! It is a win win if you ask me.
Although this cookie recipe is not high in the health department, I do always try to use the best ingredients I can get my hands on. This is the "balance" part of a healthy lifestyle. If you told me in order to be healthy I would have to give up my sweets, well I wouldn't be so happy, and that wouldn't be healthy. So use great ingredients and support local. You just might end up saving in the long run.
Now onto the cookies. They are made up of chocolate, peanut butter and white chocolate chips. They came out nice and crispy on the outside with a chewy center. Great for dunking!
1/2 c grass-fed butter, softened
1 c organic brown sugar
1/2 c organic peanut butter, room temperature (I used chunky)
1 egg
1 tsp vanilla extract
1/2 tsp baking soda
1/4 tsp sea salt
1.5 c organic all-purpose flour
1/3 c chocolate chips (I use dark, 60% cacao)
1/3 c white chocolate chips
1/3 c peanut butter chips
Yields 24 small- medium sized cookies.
Preheat oven to 350 and line two baking sheets with parchment paper.
Using a hand held mixer, cream together sugar and butter, about 30 seconds.
Add egg, peanut butter and vanilla. Mix an additional 30 seconds.
In a separate bowl, combine flour, baking soda, and sea salt. Slowly mix dry ingredients into wet.
Stir in chips. Form into balls and place on cookie sheet 2-3 inches apart.
Bake 11-13 minutes. Allow to cool 10 minutes on cookie sheet before removing.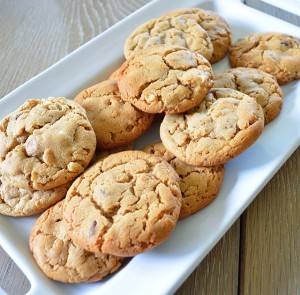 * I left my first batch in for 11 minutes for a softer cookie and the second batch in for 13 minutes for a more golden crunchy cookie.
* I did not allow the batter to cool before forming into balls and I did not find that they spread too much.