Triple Fruit Chicken Salad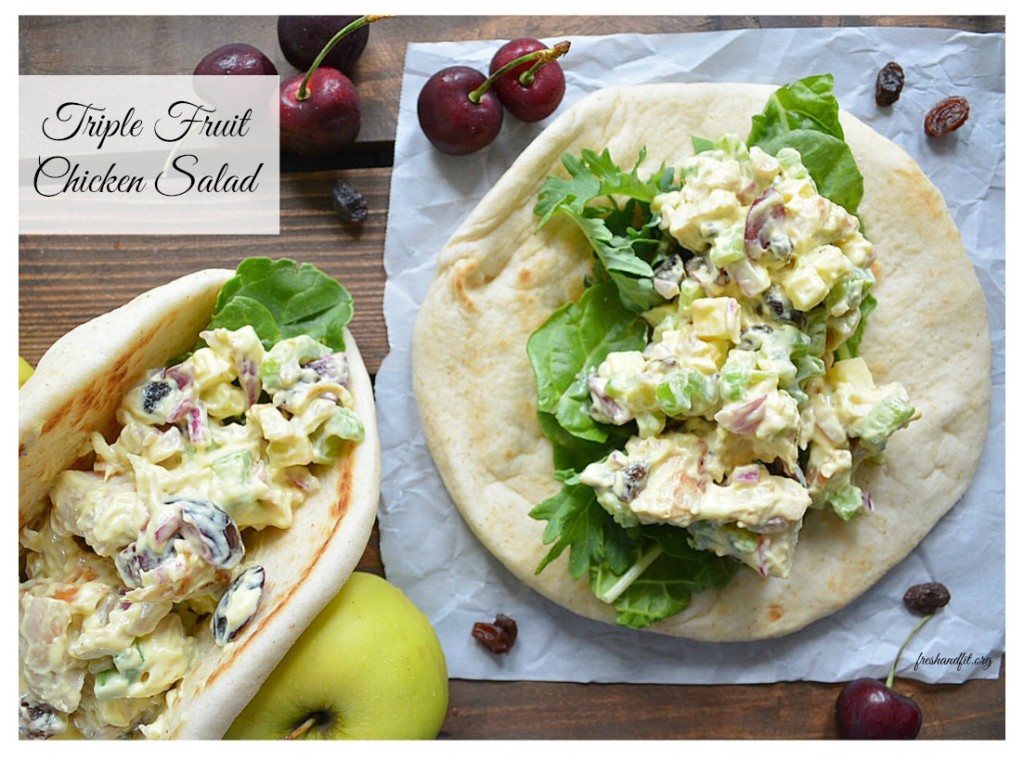 Nothing beats a cool sandwich or wrap on a hot day. These triple fruit chicken salad pitas are bursting with fresh fruit flavor. You don't typically see cherries in a chicken salad, but what could be better than the fruit of the season? This recipe is sweet and tangy, yet savory and salty.  There is also a satisfying crunch from the fresh apples and celery combo.  I lightened it up a bit with my usual go to, Greek yogurt. All wrapped up in a  doughy pita. I think this is the perfect go-to for summer lunch time or a picnic in the park. Enjoy!
Triple Fruit Chicken Salad
Ingredients
2 chicken breasts
1/2 c cherries, pitted and sliced thinly
1 c celery, thinly sliced
1/3 c raisins
1 small green apple, diced
1/3 c red onion, minced
1/3 c mayonnaise
1/2 c Greek yogurt
2 tbsp yellow mustard
1/2 tsp fresh black pepper
4 pitas
Instructions
Heat grill or flat top to medium. Cook chicken until juices run clear.
Prep and combine fruit and vegetables in a large bowl.
When chicken is cooked, allow to cool slightly. Slice into chunks or shred depending on your preference.
Combine chicken with fruit and vegetables.
Stir together mayonnaise, Greek yogurt, and mustard until smooth and combined.
Pour dressing over chicken salad and stir well. Refrigerate until serving. Serve in fresh pita or bread.
http://freshandfit.org/triple-fruit-chicken-salad/