Tropical Corn Salad with Honey Jalapeño Dressing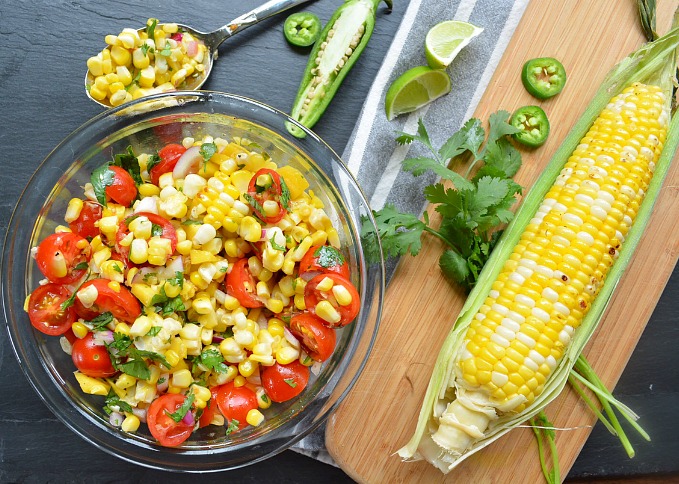 This tropical corn salad is delicious all on it's own or as a topping on your BBQ favorites; use it as a relish on burgers and hot dogs or as a salsa on tacos and tortilla chips. Fresh mango and sweet n' spicy honey jalapeño dressing make this a tropical dish perfect for the summertime.
Tropical Corn Salad with Honey Jalapeño Dressing
Ingredients
3 ears of corn
1 c mango,diced
1/2 c red onion, finely diced
1 c grape tomatoes, halved
Juice of 2 limes
3 tbsp olive oil
1 tbsp honey
1 tbsp minced jalapeño
1/2 tsp minced garlic
1 handful cilantro, finely chopped
Salt and pepper to taste
Instructions
Soak corn in water for ten minutes. Cook corn on grill in husks at 400 degrees for 20 minutes. Remove husks and lightly char corn on grill for 5 more minutes.
Allow corn to cool slightly, then slice kernels off cobb.
Add mango, red onion, tomato and corn to a medium bowl.
In a small pan, lightly sauté jalapeño and garlic until slightly charred and tender. Allow to cool.
Whisk together lime juice, remaining olive oil, honey, and jalapeño/garlic mixture.
Pour dressing over corn salad. Chill until serving. Season with salt and pepper to taste. Garnish with chopped cilantro.
http://freshandfit.org/tropical-corn-salad-with-honey-jalapeno-dressing/