Thick and Hearty Lentil Vegetable Stew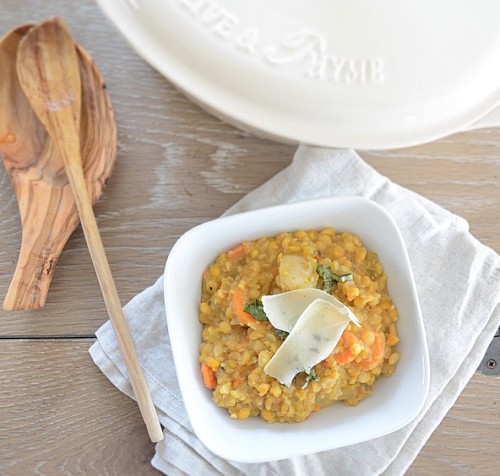 I always get frustrated when my homemade lentil soup doesn't taste as rich as the kind I get in restaurants. I think I found the solution with this recipe. By adding the tangy zip of aged balsamic with the complexity of Worcestershire, the flavor of this stew deepens. Problem solved!
Happy National Soup Month!
Thick and Hearty Lentil Vegetable Stew
2 cups sliced carrots
3 celery stalks chopped
1 cups diced baby golden potatoes
1/2 cup red onion diced
16 oz yellow lentils
2 tbsp olive oil
1 qt vegetable broth
1 cup water
2 tbsp balsamic vinegar
1 tbsp of Worcestershire
1 tsp bay leave flakes
1/2 tsp dried thyme
1 tsp oregano
1/2 onion powder
1/2 tsp dried sage
1 tbsp minced garlic
Parmesan Cheese (for garnish)
Chop and slice carrots, potatoes, celery and red onion.
In a medium dutch oven, sauté carrots, onion, and celery in olive oil over medium heat for 5 minutes.
Add garlic and potatoes. Cover and Cook 5 minutes longer.
Next add all dry seasonings except salt and pepper, stir.
Add vegetable broth, Worcestershire and balsamic vinegar. Bring to a boil.
Add lentils. Cover and Simmer 25 minutes until lentils are tender.
Allow to cool slightly. Working in two cup batches, pulse soup in food processor until smooth. Reserve two cups of soup not to be ran through food processor.
Return soup to dutch oven on low heat and stir well.
Add salt and pepper to taste. Garnish with fresh parmesan cheese if desired.