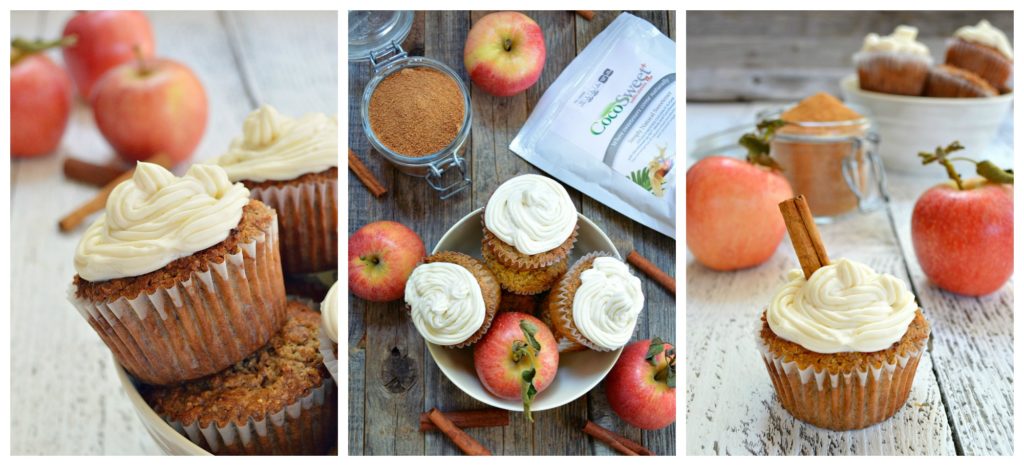 Creating an indulgent and satisfying dessert can prove difficult if you are watching your sugar intake. Enter Steviva. This awesome sugar-free sweetener company incorporates natural stevia into agave nectar and coconut sugar for a lower calorie alternative to sweeten baked goods and desserts. For these autumn inspired apple cinnamon cupcakes, I used their CocoSweet+ sweetener in the cupcake batter and the Steviva Blend Fine Powder in the frosting.
For a super sweet deal, enter coupon code FRESHANDFIT at the Steviva.com checkout for 15% off your order.
Apple Cinnamon Cupcakes with Cream Cheese Frosting
Ingredients
FOR CUPCAKES
2 cups oat flour
2 cups grated apple (peeled)
3 eggs
1/2 cup unsweetened almond milk
1/3 cup CocoSweet+ by Steviva
1/4 cup coconut oil, at room temperature
2 tsp cinnamon
2 tsp baking powder
1/4 tsp sea salt
FOR CREAM CHEESE FROSTING
8 oz cream cheese
1 tbsp unsweetened almond milk
2 tbsp Steviva Blend Fine Powder
1/2 tsp vanilla extract
Instructions
Preheat oven to 350 degrees. Line a muffin pan with paper liners. In a large mixing bowl, combine eggs, coconut oil and almond milk. Whisk until just combined.
In a separate bowl, combine oat flour, CocoSweet+, baking powder and cinnamon. Stir together with a fork and breakup and large lumps.
Gradually stir wet ingredients into dry until smooth. Stir in grated apple.
Using a 1/3 cup measuring scoop, pour batter into paper liners. Bake for 35 minutes.
While cupcakes bake, prepare frosting by combining cream cheese, unsweetened almond milk, vanilla extract and Steviva Blend Fine Powder in a mixing bowl. Use a hand mixer on medium speed to beat until smooth and fluffy.
Pour frosting into a pastry bag with end secured. Place in refrigerator to firm up slightly.
Remove cupcakes from oven and allow to cool completely before frosting. Store in airtight container in refrigerator for up to one week.
http://freshandfit.org/apple-cinnamon-cupcakes-cream-cheese-frosting/