Vegan Chili with Hominy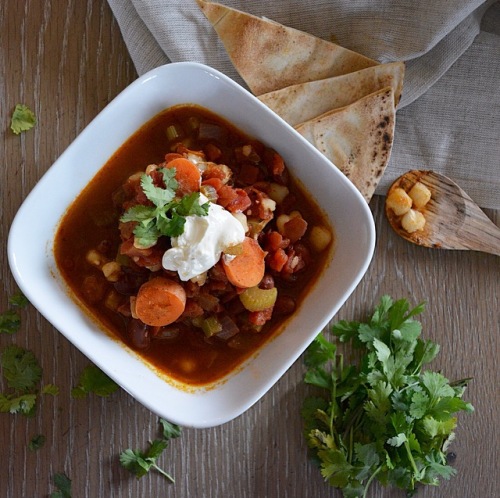 As you can probably tell just by scrolling through my recipes, I cook a lot of soup,stews and chili. Today's recipe is no different. Although I am not vegan, I really enjoy going meatless from time to time. I love vegetables and follow a diet that is largely plant based. It is especially easy for me to go meatless when my boyfriend, who follows a strict carnivore diet, is out of town. So today I am making a hearty vegan chili with hominy. The addition of hominy adds a nice corn masa reminiscent background to this chili. I did add a dollop of sour cream to my chili, but the base of this chili is 100% vegan. I hope you enjoy this chili as much as I do!
*It was brought to my attention how difficult it is to find organic hominy so I have modified the recipe. I used a dry organic white hominy that has to be soaked. If anyone finds organic canned hominy please let me know! I didn't realize it wasn't available.
Ingredients
2 tbsp olive oil
2 chopped celery stalks
1 cup sliced carrots
1/2 cup chopped red onion
1 tbsp fresh minced garlic
4 cans organic petite diced tomatoes
1 can hominy (drained), or dry hominy, soaked according to directions
1 can red kidney beans (drained)
1 small can chipotle in adobo chopped
2 tbsp ground cumin
1 tbsp smoked paprika
1 tbsp chili powder
2 tsp dried oregano
2 cups water
1 bunch chopped cilantro
sour cream
Sauté carrots and celery in olive oil for 7-10 minutes covered.
Add red onion and garlic and cover. Cook for 5 more minutes covered.
Add tomatoes, chipotles, and all dried seasonings. Stir and cover. Simmer 15 minutes.
Add hominy,kidney beans and water. Cook 15 minutes longer covered.
Ladle chili into bowls and garnish with a dollop of sour cream and fresh cilantro.
*you can cook the chili even longer to deepen flavors and thicken chili.