Vietnamese Pho Ga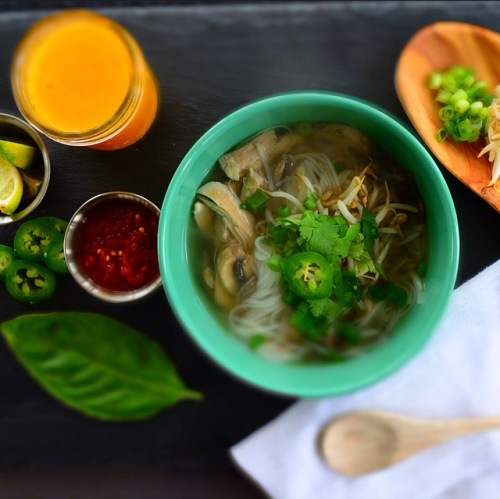 This is such a colorful comfort dish. I made Pho Ga this past weekend for my boyfriend who is fighting a chest cold. He is a seasoned Pho eater and was really impressed with this recipe. I used chicken thighs instead of a whole chicken to simplify the recipe. The best part about this soup is the toppings; scallions, cilantro, lime, bean sprouts, jalapeño, and chili sauce. If you are making this recipe for a group of people or picky eaters, everyone can assemble their own toppings and make their bowl of soup tailored to their liking. I like mine spicy and tangy!
INGREDIENTS
2 lbs organic chicken thighs
2 boxes of organic chicken stock (48 oz)
1/2 red onion, unpeeled
3-inch chunk of ginger
2 tbsp fish sauce
1 small bunch of cilantro
1 lb dried rice noodles (about 1/4″ wide)
1 cups bean sprouts
1/2 cup scallions chopped
1/2 lime, cut into 4 wedges
1/4 cup sliced jalapeños
4 large basil leaves (thai basil if available)
1 tbsp Garlic chili sauce
sea salt to taste
Place ginger and onion on a small baking sheet. The top of the onion should be about 4″ heating element. Set to broil on high for 15-20 minutes. The skin should get dark and the onion/ginger should get soft. After cooling, peel off skin on onion and ginger. Chop red onion and ginger finely. Set aside.
In a large stockpot, fill with water and boil. Add chicken thighs and simmer for 30 minutes. Set chicken thighs on a plate and shred with a fork.
Bring chicken broth to a boil and add chicken, onion and ginger. Allow to cook 15 minutes to infuse ginger and onion flavor.
In the meantime, fill a seperate pot with water and bring to boil. Cook rice noodles according to directions. Strain and divide noodles into bowls for serving.
Ladle broth mixture over noodles and top with the optional toppings above.