Baby Portobello and Greens Casserole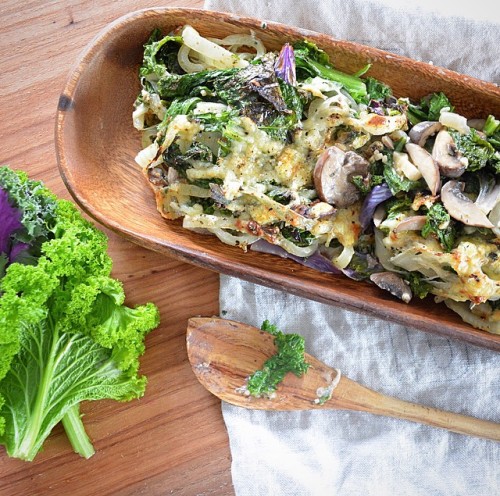 An earthy and rustic side dish best describes today's recipe. It could take the place of a salad or any hot vegetable dish. Made up of sweet onions and hearty portobello mushrooms, with a bubbly cheese on top, this dish is sure to be a crowd pleaser. It is also a wonderful offering for the vegetarians in your life.
2 large bunches of kale or mustard greens, stems removed and leaves coarsely chopped
1 medium white onion sliced into rings
8 oz sliced baby portobellos
1 cup shredded Swiss, Gruyere or Jarlsberg cheese
2 tbsp butter
1/3 c heavy cream
1 tbsp minced garlic
1/2 tsp thyme
1/2 tsp oregano
1/2 tsp basil
sea salt and pepper to taste
Melt 2 tbsp butter in a medium Dutch oven. Add sliced onion, cover and cook stirring occasionally until onions start to soften, about 7 minutes.
Add garlic and mushrooms and stir. Allow cook 5 minutes longer.
Add heavy cream, half the cheese, and seasonings. Stir well.
Add greens and combine until wilted.
Turn on broiler. Add remainder of cheese and season with sea salt and pepper. Broil until cheese is browned and bubbly.