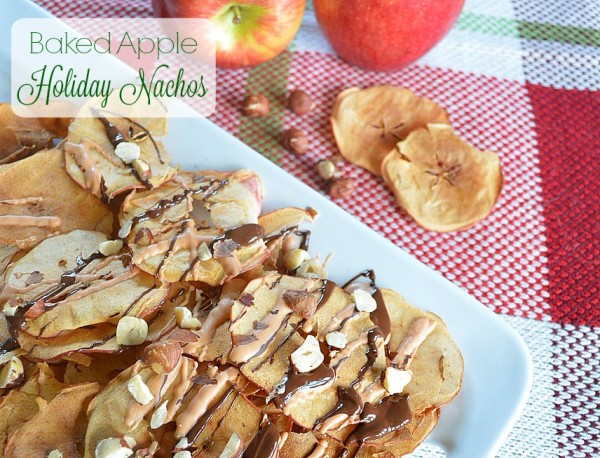 In the weeks between Thanksgiving and January 1st, most of us gain weight without even trying. We indulge in the nostalgic dishes of the season and fill our glasses with festive punches, ciders and spiked nog. It's the holidays, a time of togetherness and joy. The clinking of glasses and celebrating the excitement of a new year. Until we come to a screeching halt on January 2nd and suddenly we are wearing a different size pants than we were back in October.
This year, go into the holidays with a festive dessert recipe that won't pile on the pounds. This recipe for Baked Apple Nachos is a festive take on my traditional Apple Chips. These addictive crispy apples  get topped with a drizzle of melted butterscotch, dark chocolate, and toasted hazelnuts for a crowd pleasing dish that doesn't scream "healthy!" This recipe is also a great snack idea for kids and makes the house smell absolutely incredible.
Don't be afraid to indulge this season, but keep a few recipes like this in your back pocket to keep things balanced.
Baked Apple Holiday Nachos
Ingredients
3 large apples
1 tbsp ground cinnamon
1/3 c butterscotch chips
1/3 c dark chocolate chips
1/3 c roasted hazelnuts, coarsely chopped
Instructions
Preheat oven to 200. Line 2-3 baking sheets with parchment paper.
Using a mandolin slicer or sharp knife, thinly slice apples and spread out on baking sheets. Remove any seeds.
Sprinkle with cinnamon. Bake apples in oven 1 hour.
Carefully flip apples. Bake 1 hour longer. Allow to cool in oven to room temperature. If you are going to do another batch, put that batch in the oven now.
Toast hazelnuts in a small pan over medium heat, about 5 minutes.
Coarsely chop hazelnuts.
Melt butterscotch chips in microwave in a glass bowl working in 30 second intervals. Stir.
Melt chocolate chips in microwave in a small glass bowl also in 30 second intervals. Stir.
Arrange apple slices on serving platter. Drizzle with chocolate, butterscotch and chopped hazelnuts.
http://freshandfit.org/baked-apple-holiday-nachos/