The Chicken Little Italy Burger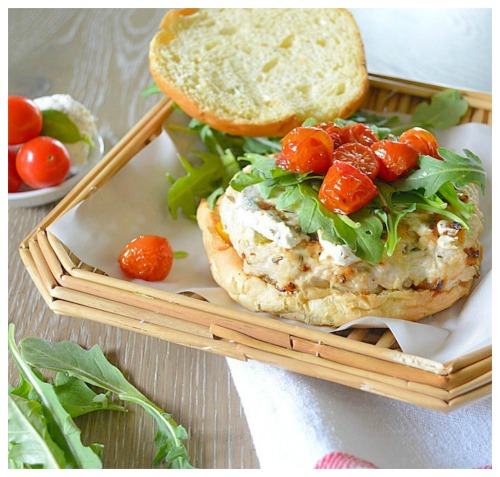 Burger week had to include an Italian burger. Going to Italy is a dream of mine; heck, I even named my dog Siena. Today's burger is also inspired by my Italian chili recipe. I lightened it up a bit for the spring grilling season, this time using lean ground chicken breast. Italian herbs like basil, oregano and fennel seed are running throughout the burger, while diced bell peppers and balsamic roasted tomatoes bring an antioxidant boost. The herbed goat cheese adds a nice smooth creamy texture. Mangia!
The Chicken Little Italy Burger
Ingredients
1.5 lbs. ground chicken breast
1 bell pepper diced
1/2 c grated parmesan cheese
1 tbsp dried oregano
2 tsp fennel seed
2 tbsp fresh basil, chopped
1 tsp minced garlic
1/2 tsp chili flakes (optional)
2 cups arugula
1 c cherry tomatoes, sliced in half
2 tbsp balsamic vinegar
2 tbsp olive oil, divided
4 tbsp soft herb goat cheese
4 burger buns (I used egg and onion buns)
Instructions
In a small pan, heat 1 tbsp olive oil over medium heat and sauté bell peppers until tender. Allow to cool slightly.
Combine ground beef, basil, oregano, fennel seed, chili flakes, garlic and parmesan cheese in a mixing bowl.
Add bell peppers and mix well.
Divide mixture into four and form into patties.
Heat flattop or grill and cook burgers to 10-12 minutes flipping once.
Meanwhile, preheat oven to 400. In a small bowl, coat cherry tomatoes with balsamic vinegar and 1 tbsp olive oil. Cook for 10 minutes.
Assemble burgers on bun topped with goat cheese, arugula and balsamic cherry tomatoes.
http://freshandfit.org/chicken-little-italy-burger/