Creamy Sun Dried Tomato Chicken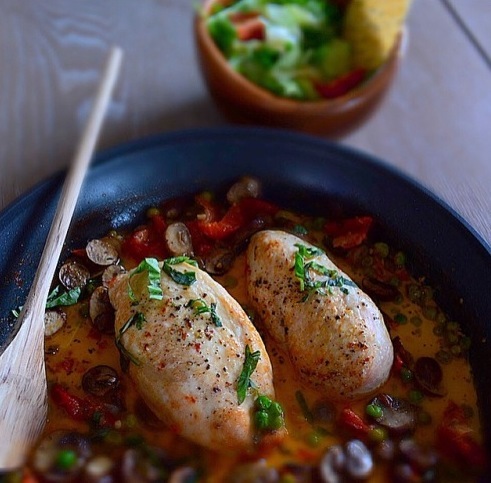 I adapted this delicious dish from a recipe my mom used to make. She would serve it over bow tie pasta. I left out the pasta and upped the nutrient content by adding fresh portobello mushrooms and peas. This dish walks the line between healthy and decadent, but it is the quality fat that is important. Using grass-fed butter and organic heavy cream, you don't have to feel guilty for enjoying this rich creamy sun dried tomato chicken recipe. Don't fear the fat!
4 chicken breasts (organic)
1 cup sliced baby portobello mushrooms
1/2 cup peas
Salt and pepper to taste
3 tbsp grass-fed butter, divided
2 cloves garlic, minced
1 tsp red pepper flakes or cayenne
3/4 cup chicken stock
1/4 cup white wine
1/2 cup organic heavy cream
1/3 cup sundried tomatos in olive oil, drained and sided thinly
1/3 cup grated Parmesan
1/4 tsp dried thyme
1/2 tsp dried oregano
1/4 tsp dried basil
1/4 cup fresh basil leaves,chiffonade
Preheat oven to 400
Season chicken breasts with salt and pepper.
Melt two tablespoons butter in a large skillet over medium heat. Brown each side of chicken breast for approx. 3 minutes. Set aside into oven safe baking dish.
Melt remaining butter. And garlic and red pepper. Stir and cook until fragrant. Add broth, white wine, heavy cream, sun dried tomatoes, parmesan, and all seasonings except basil chiffonade.
Bring to boil and simmer until thickened, about 5 minutes. Add mushrooms and peas. Stir.
Pour over chicken in oven safe dish. Bake for 25-30 minutes. Garnish with fresh basil.