Grilled Hasselback Zucchini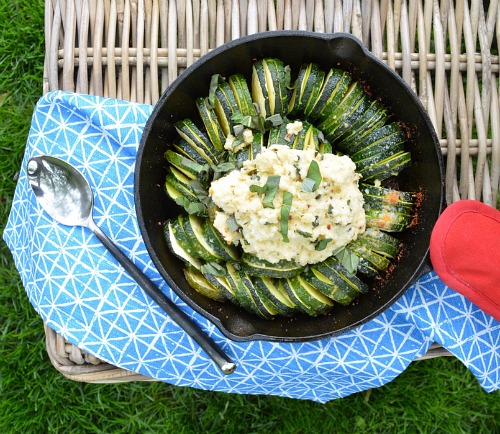 This season I want to give you plenty of grilling recipes. That means side dishes too. Try to think of your grill as your outdoor oven. Practically anything your oven can do, your grill can do too. With a little practice and the right tools, you can create beautiful tasty dishes on your outdoor grill. Plus, you get to spend time outside and the grill adds more depth of flavor. Today I am sharing Hasselback Zucchini. It looks so pretty and everyone will comment on how fancy it is. The presentation of this dish and the great taste make it a stand out of a side dish. The flavors are Italian with a ricotta and herb sauce to finish the dish.
Grilled Hasselback Zucchini
Ingredients
3 zucchini, sliced into thin circles
1/3 c ricotta cheese
1/3c + 2 tbsp Parmesan cheese, grated
2 tbsp butter
2 tbsp olive oil
1 tsp garlic
4 sage leaves,divided and finely chopped
4 medium basil leaves, divided and finely chopped
1/2 tsp chili flakes (optional)
Sea salt and pepper to taste.
Well seasoned cast iron pan
Instructions
Heat grill to 400. Slice zucchini into semi thin circles with mandolin or knife.
Toss zucchini in olive oil.
Line zucchini in cast iron pan, standing up.
Place on grill for 20 minutes.
Once zucchini has cook 20 minutes, carefully sprinkle with reserved 2 tbsp Parmesan cheese. Grill 10 minutes longer.
Meanwhile, Melt butter in a saucepan over medium heat. Add garlic and divided herbs reserving the rest for garnish. Cook 2 minutes.
Add Parmesan and 1/3 c ricotta, stir to incorporate. Heat for 3 minutes longer. Season with salt and pepper.
Using an oven mitt, remove zucchini from grill. Pour sauce over zucchini. Garnish with herbs.
http://freshandfit.org/grilled-hasselback-zucchini/