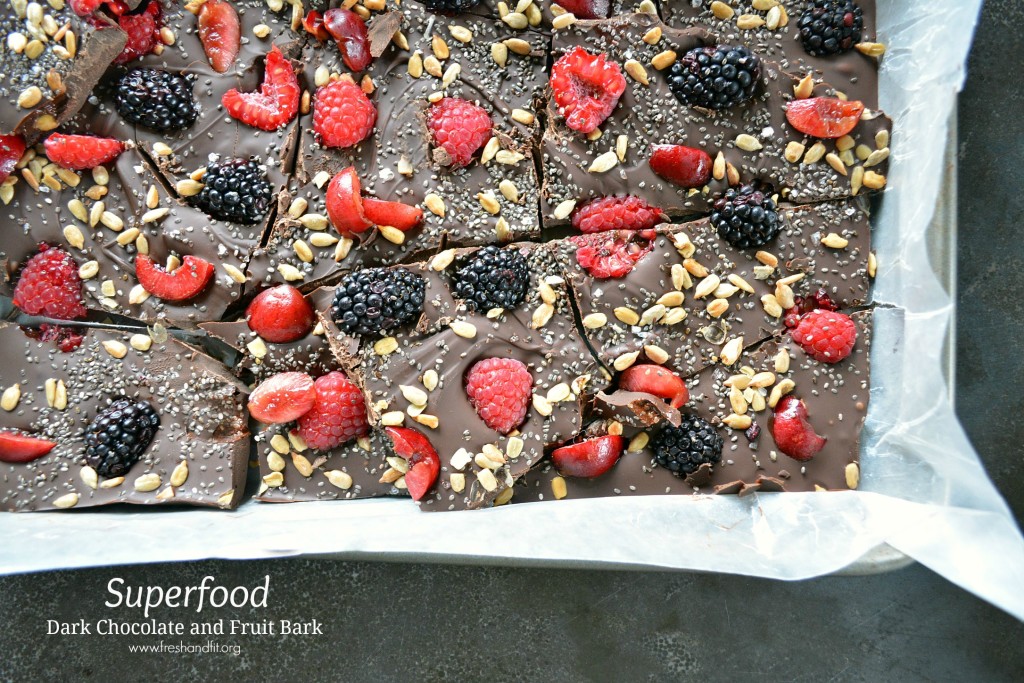 Sometimes a rich piece of dark chocolate is all it takes to satisfy the craving for something sweet. In today's recipe for superfood dark chocolate and fruit bark we are going to up the ante with a dose of chia seeds and fresh fruit to add a heap of health boosting antioxidants and omega 3's to the chocolate.
I didn't realize how truly easy it is to make homemade chocolate bark until now. All you do is choose your add ons and melt some chocolate. let it set in the refrigerator and you have a beautiful dessert in under an hour.
Superfood Dark Chocolate and Fruit Bark
Ingredients
24 oz dark chocolate chips
1/3 c cherries, pitted and chopped
1/3 c blackberries, halved
1/3 c raspberries, halved
1 tbsp chia seeds
1 tbsp unsalted sunflower kernels
1/4 tsp sea salt
Instructions
Line a 9x13 baking sheet with wax paper.
In a microwave safe bowl, melt chocolate chips working in 30 second increments until melted stirring occasionally.
Pour chocolate chips into pan and spread to edges.
Top with cherries, raspberries, blackberries, chia seeds, sunflower kernels and sea salt. Gently press into chocolate. Refrigerate 30 minutes or until solid. Use a butter knife to break into pieces.
Store in airtight container in refrigerator.
http://freshandfit.org/superfood-dark-chocolate-fruit-bark/